We are pleased to feature the following guest post by Brianna Schofield, a teaching fellow at UC Berkeley Law and co-author of our Guide to Understanding Rights Reversion.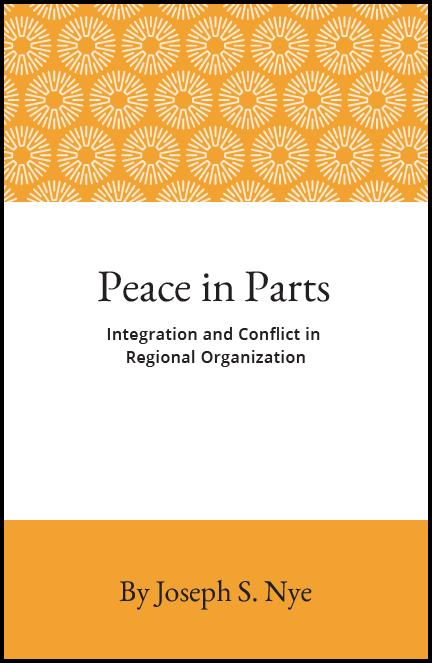 Joseph S. Nye is an Authors Alliance member, Harvard University Distinguished Service Professor, and former Dean of the Harvard's Kennedy School of Government.  He is the author of over a dozen books in the field of international politics and coined the term "soft power."  In a recent survey of international relations scholars, Professor Nye was ranked as the most influential scholar on American foreign policy.
Notwithstanding Professor Nye's significant contributions to the fields of political science and international relations, his 1971 book Peace in Parts: Integration and Conflict in Regional Organization fell out of print long ago.  When Professor Nye learned of his colleague Robert Darnton's success securing the necessary rights to make two of his early books openly accessible, Professor Nye was inspired to see what he could do to get Peace in Parts back in the hands of readers.
Professor Nye was hopeful that his original publishing contract for Peace in Parts might include a reversion clause and that the book's out-of-print status would trigger a right of reversion.  However, like many authors of decades-old books, Professor Nye could not locate a copy of his publication agreement.  With the help of the Samuelson Law, Technology & Public Policy Clinic at Berkeley Law, Professor Nye contacted the book's publisher to request a copy of the original contract.  The publisher was also unable to locate a copy of the publication agreement after searching its internal databases and offsite storage facilities.
Happily, the publisher issued a letter making it clear that it claims no rights or interests in Peace in Parts and that it has no objection to Professor Nye making his book available in the ways he wants. After confirming that a subsequent reprint license to a different publisher had expired, Professor Nye was armed with the permission and information he needed to make the book freely available to readers.
Since Peace in Parts was already scanned as a part of the HathiTrust collection, Professor Nye filled out a form asking HathiTrust to unlock the full text of Peace in Parts.  Now, after decades languishing out of print, Peace in Parts is available free of charge online to all readers.  In the interest of reaching as many readers as possible, Professor Nye additionally opted to dedicate the work to the public domain using a CC0 license.
Share your own success story! If you've already used our Understanding Rights Reversions guide to make your work more available, please contact us at reversions@authorsalliance.org. We'd love to hear about it.