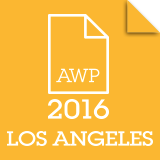 On April 2, Authors Alliance is pleased to present a panel discussion at the Association of Writers and Writing Programs (AWP) conference in Los Angeles. The panel, "On Your Terms: Managing Your Rights to Keep Your Work Available"  will be led by copyright attorneys  Michael Wolfe,  Brianna Schofield, and Lila Bailey.
Authors of all kinds are routinely asked to sign contracts that carve up their copyrights and determine where, how, and by whom their works can be published. The panel will examine some of the ways authors can ensure that these agreements don't end up standing between their work and their audience. The discussion will focus on demystifying embargoes, licenses, negotiations, rights reversions, and terminations of transfers, empowering authors to shape their own contracts.
From March 31 through April 2, we will be also be staffing an information booth in the Bookfair area of the conference. This will be an excellent opportunity for us to meet face-to-face with a diverse group of authors and connect them with our tools and resources.
If you will be at the AWP conference, you can attend our panel at 10:00 AM on Saturday, April 2—and be sure to stop by our conference booth and say hello! We look forward to meeting with our members and allies in Southern California, and are currently planning another event to be held in Los Angeles in May (details to be announced soon).