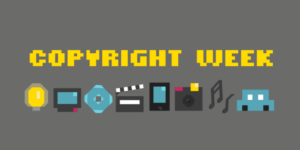 It's copyright week! This week, Authors Alliance is joining a group of organizations in reflecting on some of the principles that help make copyright law an engine of creativity.
The public domain—the realm of works not subject to copyright restrictions—is a vital part of our creative system, providing the shared history, raw material, and expressive freedom essential to authorship and intellectual inquiry. It is worth celebrating and protecting, as Authors Alliance noted in our Principles and Proposals for Copyright Reform. In that document, we wrote that the law should "recognize the interests of both authors and the public in the public domain." We elaborated:
The public domain . . . is critical to the scholarly and creative activities of authors. For too long, the law has ignored the importance of works in the public domain as essential building blocks for new creations. Copyright law should expressly recognize the public domain and the interests of authors and the public in its continued existence. Moreover, the law should recognize the public domain as inviolable: once made free to all, works and ideas should not again be subject to restrictions imposed by copyright law, by contracts, or by technology.
This bedrock principle is one we continue to support and are pleased to highlight this Copyright Week. Share our belief in the importance of the public domain to creative work? Join us as a member and show your support!