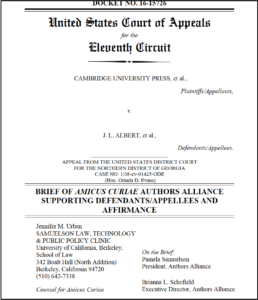 Since our founding, Authors Alliance has supported a robust interpretation of fair use that helps authors keep their works discoverable and in the hands of readers. We've published a number of opinion and policy articles on the subject, and our members and allies may recall that we filed an amicus brief in support of Google in the Authors Guild v. Google Books litigation, in which we argued that Google's snippet views of scanned books from libraries made books more discoverable and served a public good by enhancing access to millions of works. We welcomed the Supreme Court's decision not to hear the case, thereby ending the decade-long litigation and allowing the district court's ruling in favor of fair use to stand.
Now, Authors Alliance has weighed in again on the fair use question, this time in the matter of Cambridge University Press v. Albert. The case turns on whether faculty at Georgia State University (GSU) infringed Cambridge University Press' and other publishers' copyrights by assigning chapters from scholarly books to their students via secure course websites. GSU argues that this limited use for nonprofit educational purposes falls within fair use, and we have filed an amicus brief with the 11th Circuit in support of that argument. In the brief, we highlight that academic authors' primary motivation to write and publish scholarly works is grounded in their desire to share and advance knowledge. Many of our members are academic authors, and one of our members is the author of a chapter at issue in the case. They—and we—believe that this limited use of copyrighted content in a nonprofit educational setting meets the test for fair use. In the brief, we present three main arguments in support of this interpretation:
Incentives to write and publish scholarly book chapters will not be impaired by a ruling that nonprofit educational uses of these chapters is fair use.
The use of fact-, method-, and theory-intensive scholarly book chapters assigned primarily because of the originality of ideas, theses, research, data, and methods they contain, rather than on originality of expression, should tip in favor of fair use.
New options in digital publishing and trends toward open access in scholarly communications favor the fair use ruling.
The full text of the brief may be read here. We will continue to follow the case and provide updates on new developments in the litigation.