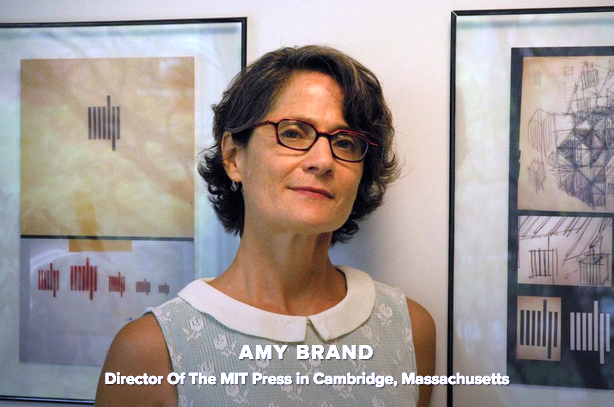 Earlier this year, the MIT Press and Internet Archive announced a partnership to digitize books from the Press' backlist and make them available online. We caught up with Amy Brand, Director of the Press, to ask about the collaboration and how publishers can help to make books openly available.

AUTHORS ALLIANCE: We're thrilled to hear that MIT Press is making some of its backlist openly accessible.  Can you tell us about the project?
AMY BRAND: Sure thing. We're partnering with the Internet Archive, with funding support from Arcadia, to digitize hundreds of deep backlist MIT Press books where we have the rights to do so, and to enable open access where legal and practical as well. At a minimum, the digitized books will be available for free one-at-a-time lending through openlibrary.org and through libraries that participate in the broader OpenLibraries project, which is intended to enable libraries that own the physical books to lend digital copies to their patrons.
AuAll: What motivated MIT Press to undertake this project?
AB: When I started as Director of the MIT Press a couple of years ago, one of my top ambitions was to make sure that everything we've published and have the rights to digitize be made accessible, searchable, and discoverable, now and in perpetuity. When I connected with Brewster Kahle at the Internet Archive, we realized that partnering to achieve this made great sense for both parties. Brewster is looking to bring as many print-only books online as possible, and working directly with publishers is a key part of his strategy. For the MIT Press, the relationship means we get back digital files for our own use. That's a significant cost savings, considering we were planning to digitize all these works on our own. In addition to making older works newly available and to growing our open access program, I also see this effort as one way to get out in front of widespread circulation of unauthorized digital files for these works.
AuAll: What can you tell us about the collection that will be included?  Are there any titles or authors you are particularly excited to see newly available to readers?
AB: We're just at the start of this effort, targeting older and out of print books, reaching out to authors and their estates to make them aware of the project and to give them the opportunity to opt out (so far, no one has). There are so many gems on the list, but one that jumped out at me was a 1973 re-issue of a 19th-century work by Frederick Law Olmsted that tells the story of his plans for New York City's Central Park. If you search online for this book today, you'll find it sells for about $500 in the used book market.
AuAll: What were the biggest hurdles to realizing this project, and how did you overcome these obstacles?
AB: It took us several months to agree on contractual terms that both the Press and the Internet Archive felt comfortable with. In particular, the Press wanted an agreement that allowed us to designate some works in the program as completely open access and others for lending only, and that's where we landed. I hope that this negotiation process and resulting agreement will serve as a model for other publishers who grasp the many benefits of this opportunity.
AuAll: Do you have any words of wisdom for other publishers who want to follow MIT Press' example?
AB: We're all in the knowledge dissemination business, so take every opportunity make the content in your authors' books, past and present, available and useful. What I also sometimes point out to other university presses is that there is so much unauthorized copying and sharing of our publications that we're fooling ourselves to think that we can lock them down. Our business models need to take that into consideration. Even for new books, digital open access plus paid print can be the right model for certain academic authors. And, where feasible, we can take the wind out of the pirate sails by putting into circulation files that the publisher authorizes and that include explicit information about the authors' intended use of the content.
---
For more information about regaining rights to previously published work, and about open access publishing, please see the Authors Alliance Resources page. We will continue to follow the MIT Press project and provide updates on books as they become newly available online.
---
Amy Brand was named Director of the MIT Press in July 2015. Previously, she served as VP Academic and Research Relations and VP North America at Digital Science. Brand serves on the DuraSpace Board of Directors, the Board on Research Data and Information of the National Academies of Science, Engineering and Medicine, and, was a founding member of the ORCID Board, and regularly advises on key community initiatives in digital scholarship. She holds a B.A. in linguistics from Barnard College and a PhD in cognitive science from MIT.