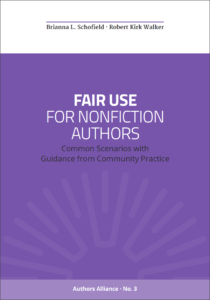 We are pleased to announce the release of our brand-new guide to Fair Use for Nonfiction Authors! The guide is designed to empower authors to exercise their right to use source materials to further their research and writing goals by helping them to make confident fair use decisions. This new guide is the latest addition to our growing library of resource books for authors, which includes educational guides for rights reversion and open access.
Inspired by the work of Peter Jaszi and Patricia Aufderheide at the Center for Media and Social Impact at American University, this guide focuses on best practices for nonfiction authors—from biographers to science writers, historians to literary critics, memoirists to academics, and beyond—who depend on the use of copyrighted materials in their work.
The guide will help nonfiction authors who want to do things like:
Include song lyrics in an academic paper discussing musical trends;
Quote from a novel to analyze the author's use of metaphors in a work of literary criticism;
Incorporate a photograph in an article about the photographer's use of light and shadow;
Use a chart in a scientific paper critiquing a researcher's methodology and findings; or
Quote from unpublished letters in a memoir.
The guide addresses three common situations faced by nonfiction authors in which fair use may apply: 1) criticizing, discussing, or commenting on copyrighted material; 2) using copyrighted material to support a point made in the author's work; and 3) using copyrighted material for non-consumptive research.  It also addresses the most frequently asked questions about fair use and clears up some common misconceptions about when it might apply.
We thank Rob Walker and the Samuelson Law, Technology & Public Policy Clinic at UC Berkeley School of Law for their help in researching and drafting the guide, which features extensive input from nonfiction authors, copyright experts, and partner organizations. The guide has also been endorsed by the American Council of Learned Societies and the Association for Information Science and Technology.
Download the guide and learn more about fair use at our new Fair Use resource page. And, if you have any fair use questions or experiences to share with us, please get in touch at info@authorsalliance.org.