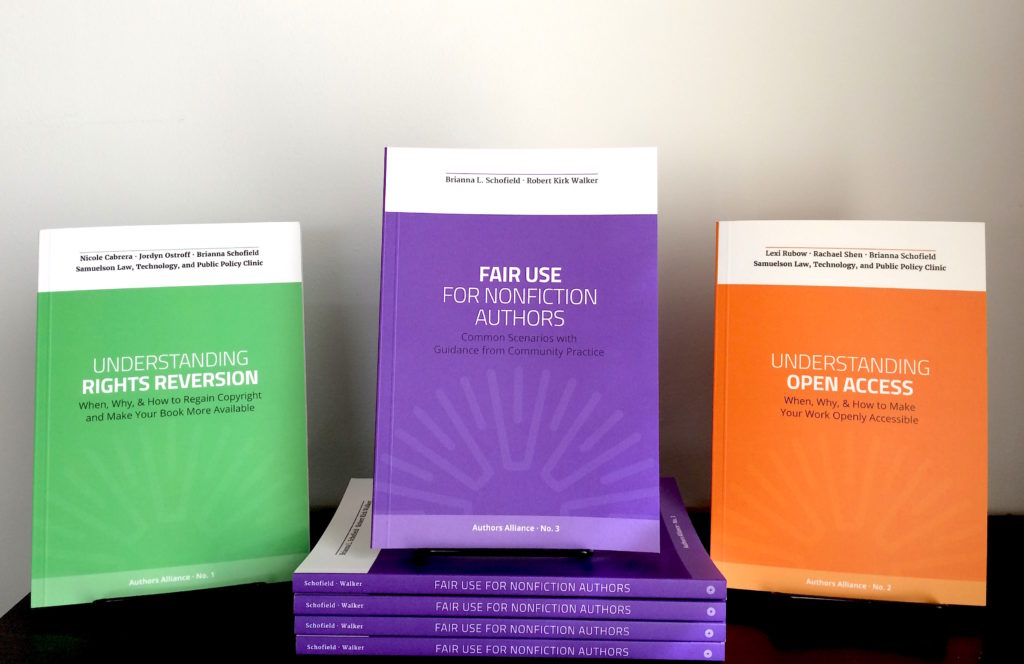 In celebration of Fair Use Week, we are pleased to announce the print release of our guide to Fair Use for Nonfiction Authors.
This past fall, we published the guide as a digital file under a Creative Commons license with the goal of putting it in reach of anyone who might need it. You can find a free download of the guide on our fair use resource page.
But digital can't reach everyone, and many of us find paper resources easier to read and navigate. For everyone with a preference for paper, and for those who want to support Authors Alliance's continuing non-profit mission, Fair Use for Nonfiction Authors is now available as a handsome softcover book. After joining or donating, purchasing a guide from us is one of the best ways to stand behind our organization. Buy one today from our store and we'll throw in some Authors Alliance stickers.
"I've read and reviewed many explanations available about fair use for the creators of nonfiction works. This is—by far—one of the best. Do not waste any time before you start reading and digesting the sections that pertain to the kind of nonfiction work you are creating, whether it is a written work or an audio-visual work.  Every category of such works can benefit from the ability to use material pursuant to the doctrine of fair use."
—Michael Donaldson
Founding Partner, Donaldson + Callif
To make your Authors Alliance reference library complete, Understanding Rights Reversion and Understanding Open Access, the first two volumes in our series of guidebooks, are still available via free digital download as well as in book format from our store.