Earlier this month, Authors Alliance attended the Association of Writers and Writing Programs (AWP) conference in Tampa, Florida. We presented a panel discussion on copyright basics with LeEtta Schmidt of the University of South Florida and Dave Hansen of Duke University, and staffed an information table at the conference bookfair. We were joined by UC Berkeley law students Karen Hagen and Anna Kuksenkova, who surveyed conference attendees in order to gather stories of authors' real-world experiences with publication contracts. Some of those examples—from negotiation success stories to lessons learned the hard way—will be incorporated into our forthcoming guide to publication contracts.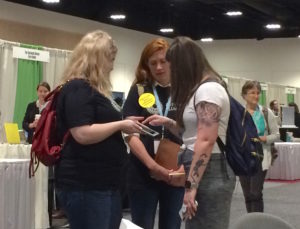 The survey results are still preliminary, but they revealed some key points that will be addressed in the guide. A number of authors shared successes and regrets about publication contract clauses relating to wide range of issues including pricing, cover design, royalties, audio rights, translations, and marketing. These considerations, and more, will be addressed in our forthcoming guide and will inform our tips for negotiating for author-friendly terms.
We are grateful to Karen and Anna for designing and administering the author survey and for their thoughtful engagement with authors at the conference. The final version of the contracts handbook will be even more useful and relevant thanks to their efforts!