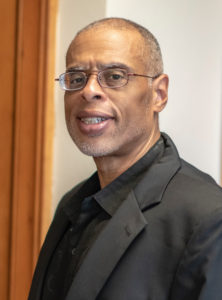 Authors Alliance founding member Lateef Mtima is Founder and Director of the Institute of Intellectual Property and Social Justice (IIPSJ) and a Professor of Law at Howard University. In the following Q&A, Professor Mtima describes the history of the IIPSJ, current projects, and the intersections of legal policy and social justice.
Authors Alliance: Please tell us a bit about the IIPSJ from your perspective as the founder. What was the catalyst to establish the organization?
Lateef Mtima: IIPSJ was established to promote social justice in the field of intellectual property law and practice, through core principles of access, inclusion, and empowerment. The initial catalyst for creating IIPSJ was derived from my experience in practicing IP law in the 1980s and 90s. It seemed that most IP attorneys and members of the bench acknowledged the existence of and critical need to redress many IP-related social injustices and deficiencies—from the history of unfair exploitation of black artists in the entertainment industry to the lack of access to medicines in the developing world—but they did not believe that solutions could or should be found in the IP law itself.
Instead, most considered these conditions and issues to be problems of social welfare extrinsic to the purpose of IP protection, and that "tampering" with the IP legal regime to address these problems was both inappropriate and unnecessary. I disagreed with this perspective. I believed that the IP law can only fulfill its Constitutional mandate to promote the progress of the arts and sciences if it is interpreted and applied so as to require the broadest and most socially equitable participation in the IP system—everyone in society should have an equitable opportunity to contribute to and to enjoy the fruits of the national storehouse of creative and innovative output.
A social justice perspective of the role of IP protection in the political economy actually ensures fulfillment of the Constitutional directive: Socially equitable access to IP and IP protection engenders widespread participation in and contribution to the IP ecosystem, and socially equitable dissemination of the results therefrom reignites and perpetuates the creative and inventive cycle to society's ultimate benefit.
AuAll: When was IIPSJ established?  How has it evolved since its initial formation?
LM: IIPSJ's genesis occurred in stages. The earliest efforts to develop the concept were focused through a prism of continuing legal education (CLE) work intended to raise awareness within the IP legal bar.  My joining the legal academy in 1998 provided the opportunity to reflect upon a full spectrum of programmatic endeavor, culminating in collaborative conceptualizations with my Howard Law School colleague Steve Jamar in 2001, along with some parallel collaboration with patent attorney Tom Irving in connection with organizing a structured CLE initiative.
By 2003, all of the components of the current infrastructure were in place: IIPSJ's work mission would range broadly be implemented through scholarly examination of intellectual property law from a social justice perspective; advocacy for social justice cognizance in the shaping and implementation of intellectual property legislation and policy; initiatives to increase the diversity and social justice awareness of the IP bar; and programs which promote greater awareness, understanding, and use of intellectual property protection, particularly among  historically and currently disadvantaged and underserved groups, to empower them to exploit intellectual property effectively.
However, even at that juncture in its development, some of what today are IIPSJ's "signature" initiatives were still largely aspirational. In reflecting upon IIPSJ's origins, I often find it somewhat reminiscent of the historical formation of the NAACP—to focus on the year the organization was formally "chartered" would be to ignore its roots and maturation in the predecessor Niagara Movement and thus derive an incomplete and somewhat inaccurate understanding of its actual formation.
AuAll: What accomplishments are you especially proud of?
LM: We're most proud of how the term "IP social justice" has become a familiar and durable part of the IP scholarly and policy lexicon, and increasingly, a part of the lay-public IP discourse. When we first used the term around the turn of the century, a few experts regarded the concept as at best, quixotic; most thought it an outright oxymoron.
Today the social justice obligations of IP law and policy are routinely contemplated in the IP scholarly, policy, and now even the civil and human rights discourse. That's not to say that in establishing IIPSJ, we were the first to promote the idea that IP protection should serve as a mechanism through which to "do good." For example, in the latter decades of the twentieth century, various scholars and social activists argued for the infusion of human rights theory and principles into IP law and policy, toward solving problems of global development.
However, IP social justice theory differs from these predecessor approaches and stratagems in that it is grounded in the perspective that social justice obligations are inherent to IP law. While we certainly agree that IP doctrine can benefit from consideration of other legal principles, we believe that the IP legal regime was "born" with a built-in social conscience.
AuAll: How can IP (or perhaps more specifically, copyright) influence social justice, and vice versa? Can you provide some examples of how those issues play out in people's day-to-day lives outside of academia? What do you see as the most persistent or pressing issue(s) in the intersection of IP and social justice?
LM: Copyright plays a critical role in providing secular incentives to create and disseminate artistic and expressive material. It can be used and misused to determine whether creators receive attribution and/or a fair share of the revenues derived from their artistic efforts, or whether communities have access to knowledge—even books that are no longer in print.
In the Information Age, social movements thrive on the public's ability to share information about important socio-political developments, such as video footage of law enforcement conduct or public demonstrations on controversial issues, and copyright can be used to control access to this material. One of the most persistent copyright social justice issues is the question of fair compensation for music artists, particularly artists of color.
Beyond copyright, many marginalized creators and digital entrepreneurs who are uninformed about trademark and publicity rights find their creative output misappropriated by those who enjoy advantages of racial and economic capital and other privileges. From the "Fleek Girl" to the rural college athlete, IP social justice is concerned with self-empowerment through equitable exploitation of the greatest natural resource available to any society: the human creative and inventive spirit.
AuAll: What inspires you in your work?
LM: The response we receive from creators, social activists and policy makers, particularly legislative staffers, is the most important inspiration for this work. So much of the contemporary IP constituency is extremely receptive to these ideas and appreciative of the work done by IP scholars and practitioners to establish both a doctrinal basis upon which to frame social justice proposals for law and change, and the concomitant effort to implement theory through practical, grassroots empowerment initiatives that resonate in the real world.
Another important motivation is the persistent "ivory tower elitism" demonstrated by some IP academics, who cling to marketplace abstractions which ignore social realities, often the result of the myopia of privilege. The former inspiration affirms that our work is valuable; the latter confirms that our work is necessary.
AuAll: As an organization dedicated to the empowerment of authors, we were especially intrigued by the Creative Control initiative—what can you tell us about that project?
LM: Creative Control is a community IP education and outreach initiative conceived by veteran civil rights attorney Kim Tignor, who in addition to serving as the Policy Director for the Lawyers' Committee for Civil Rights Under Law, contributes countless volunteer hours to IIPSJ's mission. Creative Control is designed to empower creators, activists, and entrepreneurs of color through providing access to intellectual property expertise by bringing the knowledge to them—where they live, create, and inform. Creative Control is a community of lawyers, creatives, inventors, activists, entrepreneurs, and academics who collectively advocate for the creative rights of people of color, by helping them to understand how to use IP protection to counter cultural and creative appropriation and otherwise toward self-empowerment.
Now hosted in cities throughout the country, each Creative Control event is something of an "indoor block party" of IP education panels and one-on-one information sessions presented in an atmosphere of food, entertainment, and community—words don't really describe it but I guarantee that one look at the short video on our website will have you marking your calendar for the next event!
AuAll: Do you have any advice/resources for authors and other creators who are interested in learning more about authors' rights, IP, and social justice advocacy?
LM: Today there is a growing number IP empowerment initiatives oriented toward promoting IP community education and social justice advocacy, so we've compiled a resources tab on the IIPSJ website. It includes information on everything from government programs to law school pro bono IP clinics, and we add to it as we become aware of additional programs—it's a useful place to start and the destination links in turn lead to new and other resources.
---
Lateef Mtima is the Founder and Director of IIPSJ; he is also a Professor of Law at the Howard University School of Law.  Professor Mtima received his J.D. degree from Harvard Law School, where he was the co-founder of the Harvard BlackLetter Journal (later renamed the Harvard Journal on Racial and Ethnic Justice), and in 2007 he was a member of the founding Editorial Board for the American Bar Association's IP periodical Landslide.  Professor Mtima writes in the areas of copyright, publicity rights, and diversity in the legal profession, and is the editor/contributing author of Intellectual Property, Social Justice, and Entrepreneurship: From Swords to Ploughshares (Edward Elgar 2015) and a co-author of Transnational Intellectual Property Law (West Academic Publishing 2015).