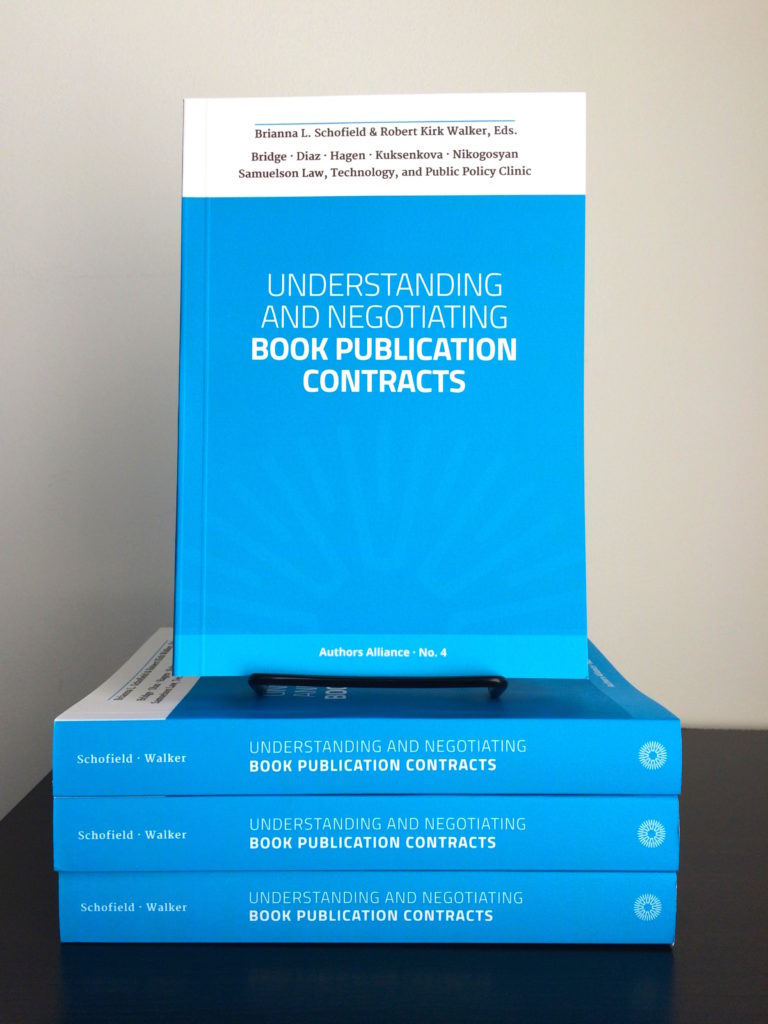 Announcing the print release of our guide to Understanding and Negotiating Book Publication Contracts! This new book is the latest addition to our growing library of resources for authors, which also includes educational handbooks on rights reversion, open access, and fair use.
Last month, we published the guide online under a Creative Commons license with the goal of putting it in reach of anyone who might need it. More details about the guide, and a free PDF download, can be found on our Publication Contracts resource page.
But digital can't reach everyone, and many readers find paper resources easier to read and navigate. For those with a preference for printed books, and for those who want to support Authors Alliance's continuing non-profit mission, Understanding and Negotiating Book Publication Contracts is now available as a handsome softcover book. Along with becoming a member or donating, purchasing a guide from us is one of the best ways to stand behind our organization.
To make your Authors Alliance reference library complete, Understanding Rights Reversion,  Understanding Open Access, and Fair Use for Nonfiction Authors, the other three volumes in our series of guidebooks, are still available via free digital download as well as in book format from our store. Buy all four guides as a bundle and save on shipping!
For those who have pre-ordered the guide, or who donated to our Kickstarter in support of the guide and opted to receive a copy, we will ship your packages this week. We look forward to sharing the guide with you!