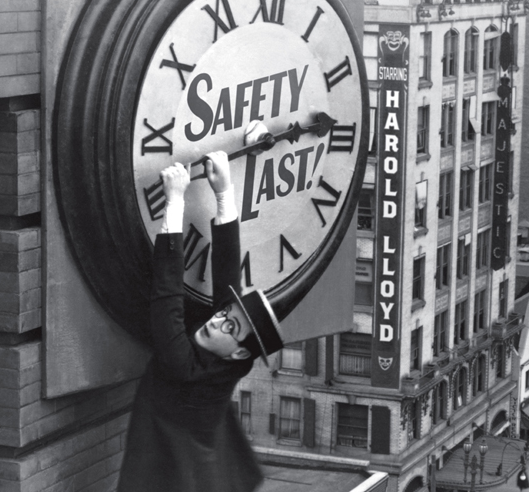 It's about time! Harold Lloyd's 1923 silent comedy "Safety Last!" enters the public domain today.
We at Authors Alliance are excited to join with other organizations and authors to celebrate Public Domain Day on January 1, 2019. For the first time in 20 years, works will be added to the public domain in the United States. The eligible works date from 1923, which means it has taken nearly a century for their copyright terms to expire, keeping many of them out of reach long beyond their creators' lifetimes, and for decades after their commercial potential was exhausted.
Two resources stand out as excellent starting points for delving into this trove of newly available films, songs, and literary works. The Duke Center for the Study of the Public Domain has provided a list of 1923 works entering the public domain today, complete with historical background and legal context. Meanwhile, John Mark Ockerbloom at the University of Pennsylvania compiled an outstanding Public Domain Day Advent Calendar for the month of December 2018, which highlights one 1923 work per day in an entertaining blog post. As an example, this post from December 14 not only provides some history about copyright law (and why it took a very long 95 years for these works to enter the public domain), but also discusses why the complete series of Edgar Rice Burroughs' popular serial Tarzan and the Golden Lion had a cliffhanger ending— for 21 years!
While the addition of new works to the public domain is certainly worth celebrating, copyright terms are still overly long, and unfettered public access to works from the 1920s and beyond will occur only gradually. Authors Alliance board member Tom Leonard noted, "as we ring in 2019 with a great list of new additions to the public domain, historians are likely to see a borderland rather than a new frontier. We can now make full use of what Edith Wharton and Rudyard Kipling had to say about the War to End All Wars, but the darker stories of Ernest Hemingway and Erich Maria Remarque can't be used so freely. 1923 is the first year in which radio takes hold in the American home, but we can't easily look ahead to see how music and storytelling changed, because the rest of the decade is trickier to see with copyright still prevailing for many post-1923 works. 1923 was also the year before America's immigration crackdown on Europeans from the south and east of the continent, as well as the restrictions on Asians who wished to live in the United States. The impact of this remains clouded by copyright restrictions that will eventually be lifted, but oh-so-slowly."
We'll feature more new public domain content on our blog throughout January—stay tuned for more posts in our public domain series!