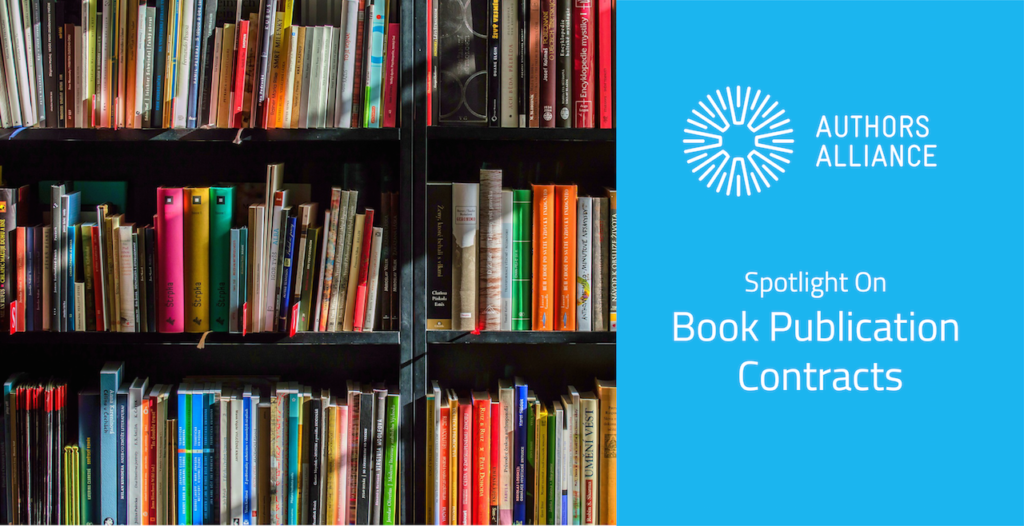 In our Spotlight on Book Publication Contracts series, we are shining the light on the ways that authors can negotiate for publication contract terms that help them make and keep their books available in the ways they want. This series is based on the information, strategies, and success stories in our guide to Understanding and Negotiating Publication Contracts. Be sure to check out the online or print version of our guide for more details on these and other strategies to help you meet your creative and pragmatic goals.
In previous posts, we have featured ways authors can shape their publication contracts to retain some control over their rights and ways authors can have a say in how their works will be presented to the world. But rights management and design decisions may not be the only thing on your mind in a book deal. In this installment of our Spotlight on Publication Contracts, we're focusing on ways that you can shape your contract to help secure fair compensation for your work. Contract terms governing advances and royalties are two key ways that your contract determines what money will flow to you.
Advances
Advances are payments for book deals that are credited against all or some part of your future earnings. An author's advance is influenced by many factors, including the potential market size for the book, whether the author is a new or established writer, the book's timeliness and competition, and a publisher's calculation of risk and reward.
A perennial question for authors is "How big should my advance be?". Unfortunately, there aren't any hard-and-fast rules about the size of an advance. Sometimes, it makes sense to negotiate for the biggest advance possible. Because an advance is a credit against your royalties, if your publisher pays you a big advance, it has an incentive to market your book aggressively so that it sells enough copies to recoup this payment.
Success Story: An author interviewed for Authors Alliance's guide to Understanding and Negotiating Book Publication Contracts wanted his book to be affordable and to be widely distributed, and he knew marketing would be important. Not being familiar with the publishing business, he hired an agent. The author and his agent pushed for a large advance in exchange for a modest cut in his royalty percentages. This way, the publisher would have the biggest financial incentive to market his book, as it stood to make more money once the author recouped. Further, the author agreed to use half his advance to hire an independent publicist to promote his book. This made it easier for his publisher to agree to a large advance as this increased the likelihood that the author's book would be financially successful.
On the other hand, it's possible that you may not receive an advance at all. While advances are typical in trade publishing, they are uncommon for scholarly works published by university presses. And, in certain circumstances, you might not want to take an advance. For example, your publisher may offer you a higher royalty percentage if you don't take an advance, which could result in you earning more money over the long term if your book is successful. Or, you might be able to use a low (or no) advance as a bargaining chip to get better terms in another part of the contract.
Whatever the size of the advance you settle on, it's important that you pay attention to how and when your advance will be paid and how your advance will be recouped. For more on advances, see pages 182-194 of Understanding and Negotiating Book Publication Contracts.
Royalties
Royalties are the amount of money that authors get from the sales of their books, usually expressed as a percentage. There are three main types of royalties:
royalties based on the book's published price (also called the "list price," the "cover price," or the "manufacturer's suggested retail price");
royalties based on the publisher's net income from sales of the book (also called "price received" or "sales proceeds"); and
royalties based on the publisher's net profit.
To calculate your royalties under any of these systems, you'll need to know both the percentage you will be receiving and the price from which that percentage is taken. It is very important to understand your royalty structure because it can make a huge difference in your future bank statements. For a detailed explanation of each royalty type, see pages 198-205 of Understanding and Negotiating Book Publication Contracts.
Success Story: Sergio Troncoso, an author of short stories, essays, and novels, as well as a savvy negotiator, pushed for his royalties to be a percentage of the list price, reasoning that this would likely be the more lucrative option. His publisher was initially resistant, but after a few rounds of back and forth, Sergio's patience and perseverance paid off. His publisher agreed to a compromise: Rather than getting the published price (list) royalty he had asked for, he would receive a higher percentage of the net profit royalty than was originally offered.
Your royalties can also be influenced by escalation clauses, small reprinting provisions, reserves on returns, deep discount provisions, and remaindered books. For more on these topics, see pages 206-213 of Understanding and Negotiating Book Publication Contracts.