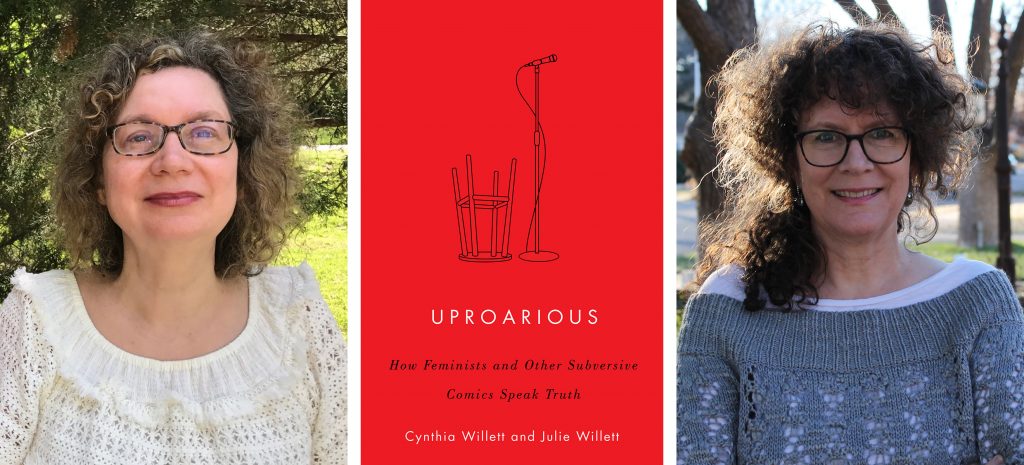 As a part of our series of open access success stories that spotlight noteworthy openly accessible books and their authors, we're featuring Cynthia Willett, Professor of Philosophy at Emory University and Julie Willett, Associate Professor at Texas Tech University.
In their new book Uproarious: How Feminists and Other Subversive Comics Speak Truth, Willett and Willett address theories of humor through the lens of feminist and game-changing comics. They take a radical and holistic approach to the understanding of humor, particularly of humor deployed by those from groups long relegated to the margins, and propose a powerful new understanding of humor as a force that can engender politically progressive social movements.
Uproarious is available under a CC BY-NC-ND license, supported by Emory University as part of the TOME initiative and can also be purchased in print form.
Authors Alliance: Can you tell us why you opted to make Uproarious openly available?
Cynthia Willett & Julie Willett: Our reconceptualization of humor draws from feminist stand-ups and other post-9/11-era comics. Just as our claims are driven by popular culture, we think open access too helps us engage in global conversations. In an era with the fortunes of academics and educational institutions caught up in growing social inequality, we also hope that open access allows our research to be more accessible not only to students at elite institutions but also to those who lack resources yet often drive the conversations on trending fields like humor.
AuAll: Did your audience and/or the subject matter of your research influence your decision to publish openly?
CW & JW: As a philosopher and a historian, we began this project hoping to reach out to a larger audience across academic disciplines and to general interest readers. The book addresses a topic of heightened relevance at a time when a twitter joke can shift the political climate overnight. At a time when so much of our political culture is driven by comedy and comedy both as an art form and a tool of politics is driven by the internet and social media, open access couldn't seem more relevant.
AuAll: Before this book project what was your impression of open access publishing?
CW & JW: We tended to associate open access with cutting edge work in the sciences and we are excited to be part of this expansion into the humanities.
AuAll: What results have you seen from publishing your book openly?
CW & JW: Perhaps the most unexpected result has been the contacts and conversations we are having with stand-up comedians who help us think about the new directions for this field of study. We have also enjoyed wider interest for our work from the media, including an interview on Free Speech TV.
AuAll: Could you share some lessons learned and/or other suggestions for authors?
CW & JW: Co-authorship made the entire process more creative and joyful. Coupled with the added benefit of working across disciplines we strive to communicate our ideas free of jargon. Moreover, the topic of our book arises from beyond the academic context and we attempted to frame the book in terms of that wider political concern.