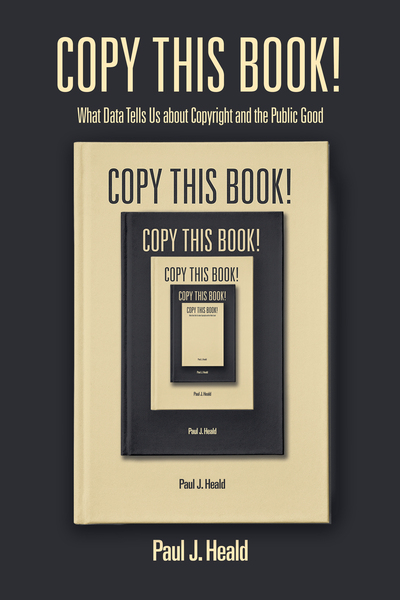 by Paul J. Heald
Such a literary effort might look like Copy this Book: What Data Tells Us about Copyright and the Public Good (Stanford University Press: November 2020).
One of my favorite books is Bill Bryson's A History of Nearly Everything in which he explains archaeology, chemistry, physics, genetics, botany, zoology, and biology as they've evolved over the centuries. I learned more about science from Bryson than I learned in high school and college combined. Moreover, I spent much of my reading time stifling my laughter as he digresses into zany anecdotes about pioneering scientists and their distant relatives.
Neil deGrasse Tyson displays much the same lighthearted, yet illuminating, flair, in a book like Astrophysics for People in a Hurry.
Surely, one might shine the same sort of light on copyright law and policy. And, let's face it, copyright's reputation needs a little tarting up. After all, the first sentence of the Wikipedia page on Basic Copyright Issues is "Copyright is complicated." If that describes basic issues, how can one make author's reversion rights or music copyright infringement digestible?
Challenge accepted!
The key to both copyright fun and enlightenment might be the treasure trove of data that I and others have collected over that last ten years. Numbers have a reputation of making things worse, but in the case of copyright, diving into the empirical evidence makes sense out of copyright law/policy and provides a platform for some fascinating illustrative anecdotes.
For example, many of you might remember a copy of James Gould Cozzens' By Love Possessed (1957) sitting on your parents bookshelf. It was a New York Times #1 bestseller (knocking the then bestselling novel of all time, Peyton Place off the top spot) and in 1960 won the William Dean Howells medal for the best work of fiction over the prior five years.
Now, try to find a new copy of By Love Possessed on Amazon.com or Barnes and Nobles, or any of Cozzens' books, including the Pulitzer Prize winner Guard of Honor (1949). You won't. No Kindle versions; no new bound copies. I solve this mystery by performing a fascinating data mining exercise on Amazon.com with a quick sideswipe at the atrocious movie made from the book.
Authors' reversion rights, a frequent topic here at the Authors Alliance, also has a reputation for eye-crossing complexity, but Copy this Book! reports data from an extensive study of bestselling (and not-so-bestselling) fiction and non-fiction to show precisely how authors "get their groove back." And who would have thought that challenge brought by the estate of an obscure South African to Disney's use of The Lion Sleeps Tonight in The Lion King would hold the key?
In addition to explaining how copyright keeps books disappeared and how authors exploit their reversion rights, Copy this Book! tells the data driven stories of orphan photographs; frustrated musicians; porn video and music parodies; false claims of copyright ("copyfraud"); music and movie piracy; and gray market goods. The book concludes with an insider's view to the biggest copyright legal disaster of the century, Supreme Court case of Eldred v. Ashcroft (2003)—a view that reveals the fascinating constitutional connection between copyright and the right to bear arms.
I am a clear beneficiary of copyright protection—my most recent novel, Raggedyland (Clarkeston Chronicles 3) (July, 2020) is proof of that—nonetheless, Copy this Book! tells an unflinching yet lighthearted, data-driven story of how too much copyright reduces public welfare.
We thank Paul J. Heald for this guest post. Heald is the Richard W. and Marie L. Corman Professor of Law at the University of Illinois. He is also a fellow and associated researcher at CREATe, the RCUK Centre for Copyright and New Business Models in the Creative Economy, based at the University of Glasgow.