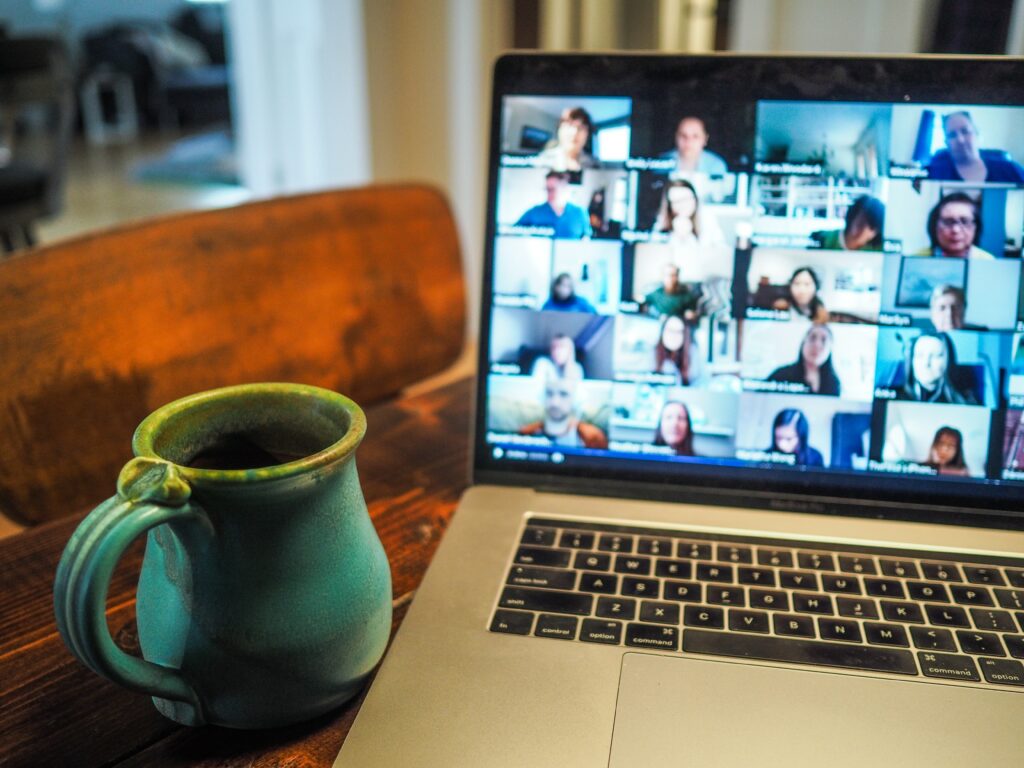 Last week, we released a brand new resource on frequently asked questions regarding copyright ownership in course materials produced for online learning—the product of a semester's worth of work by student clinicians at the Georgetown Law iPIP clinic, Elise Widerlite and Harry Levin, supervised by Amanda Levendowski and Nina Srejovic. In this week's post, we share some of the stories and copyright challenges that led us to develop this resource. The FAQ is in large part a response to the changes made in higher education instruction during the COVID-19 pandemic, but there is reason to believe that the information it contains will continue to be relevant and informative for university faculty in the future.
Universities Grapple with Copyright Policies
Even prior to the start of the pandemic, online instruction had for years been increasing in popularity, and universities were grappling with how to handle copyright issues in materials created for online learning. By custom or through policy, many universities allow faculty to retain copyright ownership over traditional academic materials they create, such as syllabi and lesson plans, but this arrangement can and often does differ for materials created for instruction in non-traditional settings—such as those created for online courses.
In October 2019, Purdue University adopted an intellectual property policy that treated all online courseware and online modules as "works for hire," meaning that the university would own the copyright in these materials rather than the professor-creators. Once in-person instruction moved online in the early months of 2020, faculty became concerned that the university could claim ownership over traditional course materials that had moved to an online format due to the exigencies of the pandemic, and asked the university to pledge that it would not seek ownership over these materials or use them commercially without the professors' consent. In response to faculty complaints, Purdue clarified that it did not seek ownership in traditional course materials used in courses that had moved online, and agreed to seek permission from instructors before commercializing the online course materials that it did consider to be works for hire.
The disconnect between Purdue's 2019 IP policy and the faculty expectations during the pandemic shows the challenges that the shift to online instruction caused for universities and professors alike. Uncertainty in copyright ownership helps no one, and we created our new FAQ to shed some light on how various university policies can interact to govern copyright ownership in online course materials.
New Copyright Challenges in Online Instruction
The move to remote instruction also exposed some oddities in university intellectual property policies. At American University ("AU"), the university sent professors guidance on intellectual property rights in the course materials they created prior to the start of the Fall 2020 academic term. The university policy stipulated that if faculty members produced materials for online instruction using commercial software (like Skype or Google Hangouts), those faculty members would own the copyrights in those materials. If, however, the faculty members used the university-provided Blackboard software to develop those same types of materials, AU would own the copyright in the works. Faculty members pointed out that it was strange that the copyright ownership in these materials depended on the software used to produce them and not their content: a lecture recorded using Blackboard would be subject to different copyright ownership rules than an identical lecture recorded using Skype. And other university faculty chimed in with similar stories: at some universities, faculty are even unable to delete videos they recorded using Blackboard software from university course pages.
Faculty members at AU also expressed fears that the Blackboard-created course materials could be used by the university once they were no longer teaching there, such as in the event of a labor dispute between faculty members and the employing university. In our FAQ, we discuss the possibility of a university using online course materials created by a faculty member once that faculty member no longer teaches at the university to help faculty members who may find themselves in this situation.
Unexpected Consequences: The Ghost Professor
Changing copyright ownership structures in materials created for online learning can result in unexpected consequences for students and the academic community. In January of this year, a student at Concordia University in Canada discovered that the professor of the online course he was enrolled in was, in fact, deceased. Incredibly, the student only made this discovery when he attempted to email his professor about a matter related to the course. Concordia confirmed that the professor of record for the course was deceased and stated that the course materials had been part of the university's online catalogue prior to the pandemic: the now-deceased professor recorded the lectures with an understanding that they would be used for online instruction without further in-person involvement by the professor.
While the precise copyright ownership structure that led to this result is not known, it shows an unexpected consequence of handing over rights in online course materials to a university. As we discuss in the FAQ, handing over all rights can result in a lack of control for the professor over how course materials are disseminated in the future.
Online Instruction Going Forward
While many academic institutions that had implemented distance learning during the 2020-2021 academic year will begin offering in-person classes for the upcoming fall semester, there is reason to believe that the copyright and authorship challenges exposed by the temporary move to remote instruction are here to stay. A recent survey of university students found that students had a more positive outlook on online learning than they did before the start of the pandemic, and that a higher percentage of students wanted online learning options compared to before the start of the pandemic. Additionally, faculty at a number of universities have expressed a desire for flexibility in where and when they work. Like many employees across sectors, many university faculty do not wish to return to working in-person five days a week, due to challenges of the pandemic or the adjustments these challenges necessitated. Where in-person instruction is not possible or feasible full-time, online learning can fill the gap, just as it did during the pandemic, making copyright issues in materials produced for online learning of continuing relevance.
Our FAQ seeks to address these issues and more. We hope it will prove a valuable resource for university faculty that will create or have created online course materials and seek clarity regarding who owns the copyrights in those works and how the works can be used. We encourage you to dig in to the FAQ and share it with those in your professional or personal circles that may find it useful.