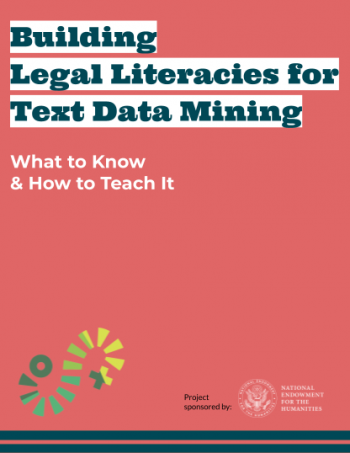 Authors Alliance is pleased to share the news of the open release of a comprehensive open educational resource (OER) on legal issues related to text data mining.
The new OER covers material taught at the Building Legal Literacies for Text Data Mining institute (funded by the National Endowment for the Humanities and led by Rachael Samberg and Tim Vollmer of UC Berkeley Library), and covers copyright, technological protection measures, privacy, and ethical considerations. It also helps other digital humanities professionals and researchers run their own similar institutes by describing in detail how the programming was developed and delivered, and includes ideas for hosting shorter literacy teaching sessions. Authors Alliance's Executive Director, Brianna Schofield, co-authored a chapter on copyright in the OER.
Until now, humanities researchers conducting text data mining in the U.S. have had to maneuver through a thicket of legal issues without much guidance or assistance. The new OER empowers digital humanities researchers and professionals (such as librarians, consultants, and other institutional staff) to confidently navigate United States law, policy, ethics, and risk within digital humanities text data mining projects so that they can more easily engage in this type of research and contribute to the advancement of knowledge.
The resource is in the public domain under the CC0 Public Domain Dedication, meaning it can be accessed, reused, and repurposed without restriction.