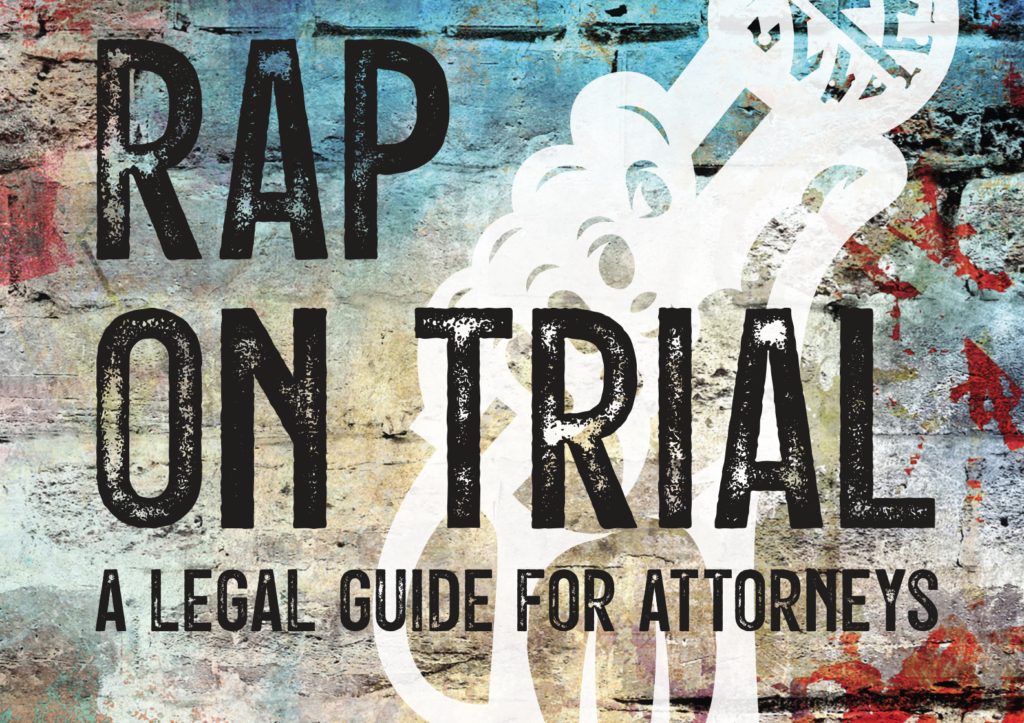 One of Authors Alliance's long standing goals is to support authors' freedom of expression. As we've recently highlighted, sometimes challenges to those rights come from unusual sources in the law.
This week we caught up with Jack Lerner, Clinical Professor of Law and Director of the Intellectual Property, Arts, and Technology Clinic at UC Irvine Law. Jack is the co-author, with Professor Charis Kubrin, of Rap on Trial: A Legal Guide for Attorneys, a resource which aims to address an alarming trend of prosecutors and courts treating rap lyrics not as a creative and artistic endeavor, but as confessions of illegal behavior and evidence of knowledge, motive, or identity with respect to an alleged crime. As his co-author Charis Kubrin explains, "putting rap on trial has significant implications for how we define creative expression as well as for free speech and the right of all Americans to receive a fair trial."
Jack's work and that of several aligned groups has now resulted in three pieces of proposed legislation–one federal bill called the "Restoring Artistic Protection Act" (RAP Act), and two similar bills at the state level in New York and California–that would amend the rules of evidence to make it more difficult for prosecutors to introduce a defendant's creative or artistic expression as evidence against a defendant in a criminal case. Authors Alliance supports these efforts. The California bill is now sitting on Governor Newsom's desk, and we have written a letter to the Governor explaining why this legislation is important not just to rap artists, but to all authors and creators, and expressing our hope that it becomes law. Governor Newsom has until September 30th to sign or veto the bill. If he neither signs nor vetoes it, the bill will become law, going into effect in January 2023. 
These bills–while addressing discriminatory use of rap lyrics against defendants–are designed to apply broadly to protect many other creators, including authors, from having their creative expressions used against them in court. The RAP Act, for example, states that as a general matter, "evidence of a defendant's creative or artistic expression, whether original or derivative, is not admissible against such defendant in a criminal case." It allows for limited exceptions, such as when the lyrics make a specific reference to the alleged crime, but nonetheless provides strong protections for creative expression. The Act goes on to define "creative or artistic expression" broadly, as "the expression or application of creativity or imagination in the production or arrangement of forms, sounds, words, movements or symbols, including music, dance, performance art, visual art, poetry, literature, film, and other such objects or media.''
We recently had the opportunity to sit down with Jack and discuss with him the background, and future, of this legislation:
Tell me about what motivated this effort?
Jack: The issues motivating the RAP Act have been going on for a long time. While it's almost unthinkable that someone would use the music of Johnny Cash ("I shot a man in Reno just to watch him die") or Eric Clapton (who sang "I Shot the Sheriff," covering Bob Marley) as evidence against them in a trial, rap lyrics have been used again and again against rappers. Conservatively, scholars have identified over 500 cases in which prosecutors have used rap lyrics as evidence against an artist in court.
The admission of rap lyrics can be extremely detrimental to defendants. Over 25 years of research has shown that the mere association with rap can create a strong negative bias in jurors, who will take the lyrics as more literal, more violent, and more threatening, as compared to lyrics from other genres. All you have to do is label it "rap."
Can you tell me about the origins of these bills?
The work on this issue began almost a decade ago. Charis Kubrin, who co-authored the Rap on Trial Legal Guide, Charis Kubrin, has been writing about this issue since 2005, and has since conducted astonishing research demonstrating a massive risk of bias when rap lyrics are introduced. When she began to hear regularly from defense attorneys needing help with this issue, we conceived of developing the Guide. Over three years later, with the help of dozens of law students in the IP, Arts, and Tech Clinic at UCI Law, we published the Guide along with a Brief Bank and Case Compendium.
What has been remarkable is that as we surfaced these issues, lawmakers in New York and California found out about them on their own and took action. And proponents from both the entertainment industry and the criminal justice movement have been working with them. The New York bill became the basis for the current federal bill, and the California bill is now on Governor Newsom's desk for his signature.
How do these bills actually work?
These bills raise the bar for introducing rap lyrics as evidence. The federal bill, for example, would require a prosecutor to establish by "clear and convincing evidence" that the defendant intended the lyrics to have a literal meaning or that the expression refers to the "the specific facts of the crime alleged."
The California bill is a little bit different. It says that the court should start with the presumption that creative expression is not probative, and requires that prosecutors have to overcome that presumption by showing that the lyrics in question meet a set of criteria for introduction as evidence, such as that they match the specific elements of the crime, or were written close in time to the alleged crime. Notably, the court is required to look at whether the introduction will introduce bias, and must look at all the research I mentioned on the issue of negative bias associated with rap.
How do these bills affect other creators?
These bills apply broadly, protecting artists, authors and all other types of creators. All the cases we've identified in our research have been focused on the uniquely negative use of rap lyrics against defendants–but you can see the importance of these protections for authors and other creators, especially in the current political climate. For example, with book censorship taking hold in a variety of places, it's easy to imagine an aggressive prosecutor trying to use a controversial author's fiction writing as evidence of criminal activity.
What can authors do?
The federal RAP Act has been co-sponsored by representatives Bowman (NY), Johnson (GA), Maloney (NY), and Jayapal (WA). If you support the bill, you should contact your representative expressing your support. 

If you are in California, AB 2799 is currently on Governor Newsom's desk awaiting his signature to become law. You can contact his office to express your support and encourage him to sign the bill.