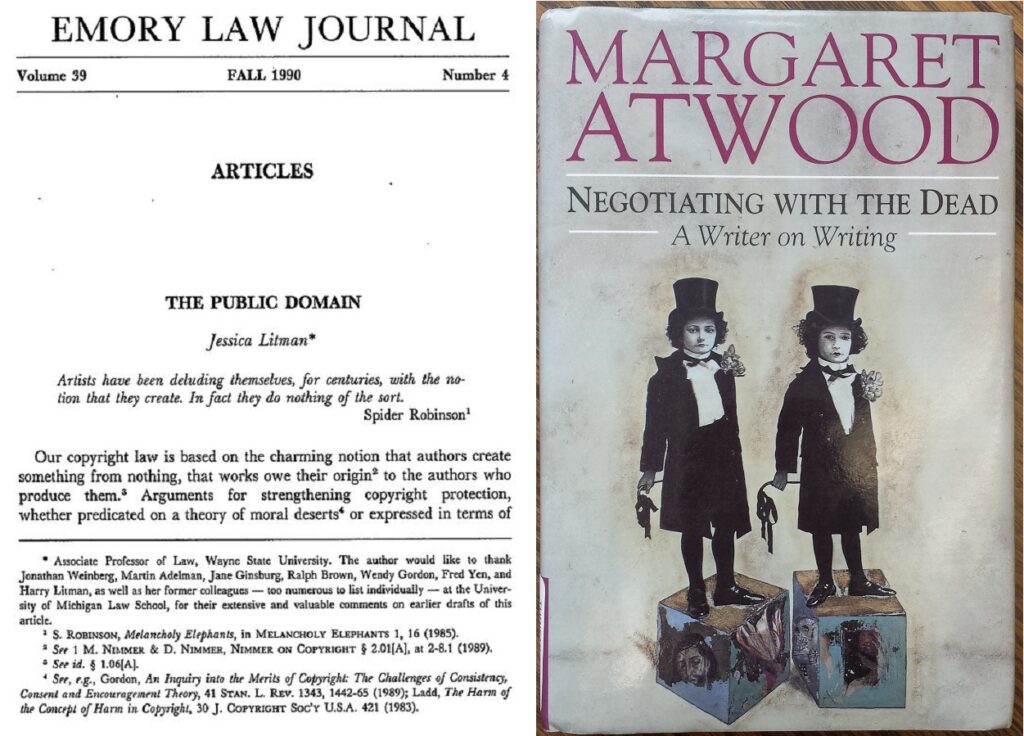 This is a guest post by Meera Nair, PhD, Copyright Specialist for the Northern Alberta Institute of Technology (NAIT), commenting on the recent extension of copyright term in Canada. It was originally published at https://fairduty.wordpress.com/2023/01/10/negotiating-with-the-dead/.
When it became evident that our copyright term was to be extended by twenty years, with no measures to mitigate the excess damage wrought by such action, Margaret Atwood's book of this title kept returning to mind. A foray into the relationships that exist between writers and writing, a book where the word copyright did not feature among those ruminations, the title nonetheless feels apt for the days ahead.
Works of long-since-dead authors will now—in the best of situations—literally become objects of negotiation. This is purportedly to the benefit of those authors' heirs, whereas on balance the true beneficiaries will be international publishing conglomerates and collective societies. In the worst of situations though, works will simply fade away with no surviving copy to emerge seventy years after their authors' deaths. Those authors will be forgotten, and the public domain will remain poorer.
Atwood has been a prominent advocate for a stronger scope of protection in the name of copyright, famously remembered for her characterization of exceptions as expropriation and theft during a Standing Committee Meeting of the Department of Canadian Heritage in 1996. Two decades later, when she gave the 2016 CLC Kreisel Lecture at the University of Alberta, fair dealing was called out by name. Nonetheless, that lecture was a delight to listen to, grounded as it was on Atwood's own experiences of being a Canadian writer.
It is her life that lies at the foundation of Negotiating, which took form through the Empson Lectures at the University of Cambridge in 2000. The combination of literature, literary criticism, book history, and history itself, written as only Margaret Atwood can, makes for compelling reading. In this book she comes perhaps closest to answering an age-old question about writing: what does it mean to write? There is no neat and tidy answer; at the very least it is blood, sweat, and tears amid negotiations between oneself, the society of the living, but also that of the dead.
To be sure, financial wherewithal is relevant to any impetus to write. Money appears approximately three times among the 74 reasons for writing taken "from the words of writers themselves (xx-xxii)." Yet, perhaps unintentionally, Atwood lays bare why copyright was not, nor ever will be, a broad determinant of success (either literary or material) for Canadian writers and publishers. From identifying the limitations of the Canadian publishing sector in the early to mid-twentieth century (to say there was disinterest in Canadian authors is putting it mildly), to stripping away the facades of originality and individuality (which underpin copyright's structure of rights) in literary endeavor, there is much here to remind us that Canada's phenomenal success in developing literary talent (see here and here) has occurred despite copyright, not because of it.
After borrowing the book repeatedly from the Edmonton Public Library, I had to buy it. Or rather, I had to buy it in the original form. Because what I had borrowed was a book titled On Writers and Writing, by Margaret Atwood, identified as a Canadian reprint of her earlier work, Negotiating with the Dead.
My preference was to buy Negotiating; in the peculiarities of my own mind, somehow it felt more authentic. As it turned out though, my instincts were correct. The two books are not the same. The difference lies, not in Atwood's words, but in the representation of what copyright is. While both books specify the copyright as belonging to O.W. Toad (the name of Atwood's enterprise), similarity ends there.
In Negotiating, published by The Press Syndicate of The University of Cambridge, readers are told: "This book is in copyright. Subject to statutory exceptions and to the provisions of relevant collective licensing agreements, no reproduction of any part may take place without the written permission of Cambridge University Press (emphasis mine)."
There it is. A clear indication that statutory exceptions exist and are relevant; meaning that some reproduction might not require permission. Whereas in Writers, published by Emblem (an imprint of McClelland & Stewart, a division of Random House of Canada Limited, a Penguin Random House Company), readers are told that permission is always needed for even a particle copied:
"All rights reserved. The use of any part of this publication reproduced, transmitted in any form or by any means, electronic, mechanical, photocopying, recording, or otherwise, or stored in a retrieval system, without the prior written consent of the publisher – or, in the case of photocopying or other reprographic copying, a license from the Canadian Copyright Licensing Agency – is an infringement of the copyright law (emphasis mine)."
Despite what a publisher might prefer, Canada's Copyright Act permits unauthorized uses of insubstantial parts of a work and unauthorized uses of substantial parts which comport with fair dealing or other exceptions. As the Supreme Court (with unanimity) stated in 2004, "the fair dealing exception is perhaps more properly understood as an integral part of the Copyright Act than simply a defence. Any act falling within the fair dealing exception will not be an infringement of copyright (para 48)." And yet, willful misinformation is standard fare among books issued in Canada.
Given the stunting of our public domain by term extension, fair dealing is even more important now as it provides some allowance of use of older, protected, material. But even a large and liberal interpretation of fair dealing, as required by our Supreme Court, is no substitute for a vibrant public domain.
With the Act expected to undergo change this year, Canada could still introduce a system of registration associated to a longer term of copyright. Owners of works which continue to be commercially successful fifty years after an author's death, will likely choose to register and thus receive the additional twenty years of protection. Whereas works that did not have such longevity with respect to commercialization, and works that were never intended for revenue generation, would likely not be registered and thus would enter the public domain without the twenty year delay. Such a system was recommended by a former Industry Committee to uphold our obligations under CUSMA, ensure that commercial works which may benefit by a longer term are able to capture that gain, and continue to grow the public domain.
The difficulty is to convey to current Canadian lawmakers the importance of the public domain. Too often, its intangibility has meant that the public domain is perceived as being of lesser value. That an author's work is not protected somehow deems it and the author as being unworthy. Even the way older works are spoken of, that they have "fallen into the public domain," carries an aura of degradation familiar to the plight of "fallen women." Whereas the public domain is precisely the opposite; it enables new works to emerge. As Jessica Litman wrote in The Public Domain (1990):
To say that every new work is in some sense based on the works that preceded it is such a truism that it has long been a cliche, invoked but not examined. … The public domain should be understood not as the realm of material undeserving of protection, but as a device that permits the rest of the system to work by leaving the raw material of authorship available for authors to use (966-968).
That this truism went unexamined and unarticulated is a testament to the difficulty of capturing the intricacy of the relationships between old works and new authors. Margaret Atwood not only undertook such an exploration but also elegantly articulated the journey that underlies every literary endeavor.
It is only fitting then that Margaret Atwood should have the last words:
… All writers must go from now to once upon a time; all must go from here to there; all must descend to where the stories are kept; all must take care not to be captured and held immobile by the past. And all must commit acts of larceny, or else of reclamation, depending how you look at it. The dead may guard the treasure, but it's useless treasure unless it can be brought back into the land of the living and allowed to enter time once more – which means to enter the realm of audience, the realm of readers, the realm of change (p.178).