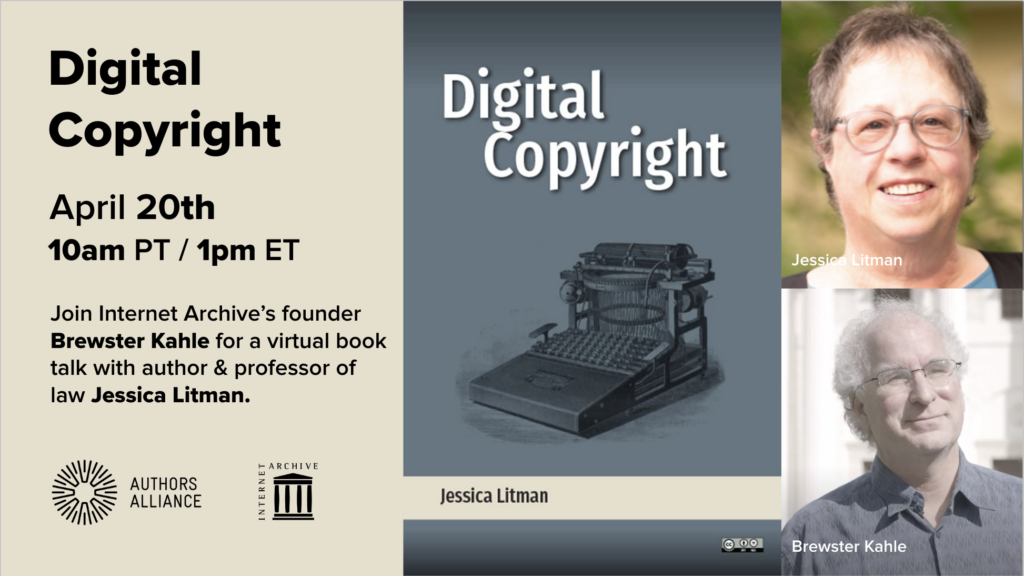 Authors Alliance is pleased to announce the next in our joint book talk series with the Internet Archive. Join us as we host Internet Archive's founder BREWSTER KAHLE in conversation with JESSICA LITMAN to talk about her book, Digital Copyright.
In Digital Copyright (read now), law professor Jessica Litman questions whether copyright laws crafted by lawyers and their lobbyists really make sense for the vast majority of us. Should every interaction between ordinary consumers and copyright-protected works be restricted by law? Is it practical to enforce such laws, or expect consumers to obey them? What are the effects of such laws on the exchange of information in a free society?
Read Digital Copyright now.
PROFESSOR JESSICA LITMAN, the John F. Nickoll Professor of Law, is the author of Digital Copyright and the co-author, with Jane Ginsburg and Mary Lou Kevlin, of the casebook Trademarks and Unfair Competition Law: Cases and Materials.
BREWSTER KAHLE, founder and digital librarian of the Internet Archive, has been working to provide universal access to all knowledge for more than 25 years.
Book Talk: Digital Copyright
April 20, 2023 @ 10am PT / 1pm ET
Register now for the free, virtual discussion