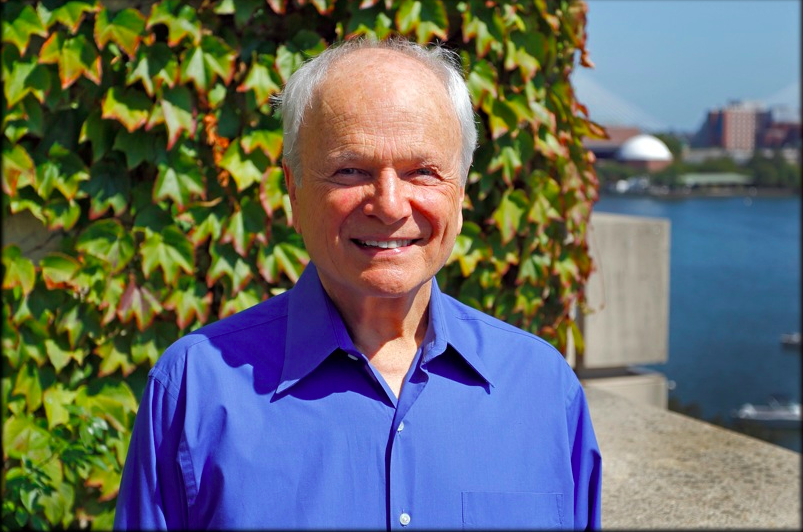 Just in time for the 2017 back-to-school season, we're featuring a series of posts on alternatives to traditional publishing models. Earlier this year, Authors Alliance advisory board member and MIT professor Eric von Hippel released his book Free Innovation under a Creative Commons license—the newest addition to his online collection of freely available works. We asked him about his experiences with rights reversion, open access, and how academic authors and publishers can help to make books openly available.

Authors Alliance: You successfully regained the rights to your 1988 book The Sources of Innovation from Oxford University Press (OUP). How did you secure a reversion of rights? What have you been able to do with your book since reversion?
Eric von Hippel: When I contracted with OUP for my first book in the 1980s, I was not aware of open access as a possibility, so I simply signed a standard contract giving all rights to OUP. About 20 years later, I had become very interested in open access. I therefore asked OUP to allow me to conduct an experiment. OUP would allow me to post a free electronic version on my MIT website. If hard copy sales declined in the next period, I would pay OUP $1,000 as compensation for lost sales. If they went up, OUP would keep the profits and allow me to keep posting the free version. OUP agreed to these terms. Happily, sales of printed copies went up, so I was able to keep posting the free version from then on.
With respect to actually getting back the copyright for Sources of Innovation so I could go fully open access: About 5 years ago, my excellent activist OA colleagues (thanks especially to Ellen Finnie Duranceau of MIT) told me that I had a window of time in which I could get the copyright returned to me. That window was fast-approaching in the case of my 1988 book, so I simply wrote to my editor at OUP, asking him to give me back the copyright without my having to go through the formal process as dictated by the law. Sales were low at that point, so he simply said "fine," and wrote me a letter transferring all rights back to me.
AuAll: We've written previously about MIT Press' pioneering approach to open access. To date, you've published two books with MIT: Democratizing Innovation and Free Innovation. Your publication contract with MIT gave you the right to post free ebooks from the very beginning, ensuring that both books were "born open access." Based on your experience, can you offer some advice to other authors—and publishers—who want to embrace this model?
EvH: In response to your question, I talked to my editor at MIT Press to see if they had by now evolved a standard set of OA practices. Turns out they have not. They are still experimenting. Sometimes, depending on specifics of a book—for example, is it a textbook?—their experiments result in negative financial consequences for the Press relative to their sales projections. Sometimes the consequences are financially quite acceptable. Things are also changing quite rapidly in terms of book-reading behaviors. Specifically with respect to my own books with MIT Press, the 2005 book had very acceptable print sales despite the availability of a free eBook version. The jury is still out on my new 2017 book.
Frankly, these days authors have to insist on an open access eBook option if they are to have a hope of getting a publisher to agree. And, they very well might be turned down even if they do insist. As we know, academic presses are not hugely profitable, and they cannot afford to take big risks. I have a feeling that a standard OA option that may emerge in the end will be something like the model now increasingly offered by publishers of academic articles: If authors want open access, they may increasingly have to agree to pay a fee to compensate publishers for (possibly) lower print copy sales.
AuAll: How did you select which Creative Commons license to apply to these books?
EvH: I really did not know which one to use—I just sort of chose the license others seemed to be using without really understanding the pros and cons. I will be able to make a more informed choice using information supplied by Authors Alliance by the time decision-making for my next book comes around. [Chapter Four of Authors Alliance's guide to Understanding Open Access has additional information about selecting an open access license.]
AuAll: What results do you see from publishing your books openly? What do you see as the pros and cons of embracing this model?
Like most academic authors, I write books to have them read, not to earn royalties. The increase in readership I have experienced by going OA is really worth it to me—it makes me very happy. Evidence to date is that about 10 times more eBooks are downloaded than print copies are sold, so I guesstimate that I am reaching about 10 times more people with the ideas I find exciting than I could have done in the pre-OA era. It especially makes me happy that now teachers can assign even a single chapter of one of my books in a class in a developing country if they wish, without worrying about burdening students with any purchase costs.
Personally, I don't see any negatives with respect to going OA—only positives. I actually feel very proud that I can contribute to my colleagues and to scholarship in this enhanced way. I am very grateful to the Authors Alliance for making it easier for me and many others to accomplish an Open Access outcome.
AuAll: Do you have any other suggestions for authors on how they can make their works available in the ways that they want?
EvH: Open Access is a wonderful goal—but as a young academic, please don't feel guilt or failure if you cannot negotiate open access agreements right from the start. At the beginning of an academic career, very few of us have much leverage with publishers to negotiate for open access. Certainly, in the case of my first book I was at the start of my academic work and had zero leverage. In fact I was just very happy to get published by a good academic press like OUP, and would have signed pretty much any "standard terms" they asked for.
If this is your case too, I would urge you not to feel badly if you have to sign a traditional contract assigning all rights to your publisher. Better to survive the academic rites of passage. You will have a long academic career, and will have increasing abilities to demand and negotiate open access for your work as your reputation grows.
AuAll: We are honored to count you among the advisory board members of Authors Alliance. Thank you for sharing your experiences with our readers!
EvH: I am totally proud to serve on the Advisory Board. Pam Samuelson, as we all know, was a crucial founding member of Authors Alliance. She was the one who asked me to join. In my experience, Pam has wonderful instincts about what will help scholars and scholarship with respect to openness, and I signed on to support both her and this wonderful idea.
(As a side story in closing—I should mention that I tend to regard Pam Samuelson as akin to an unstoppable force of nature when she gets behind something she believes in. I still remember hearing about and worrying about the (ultimately defeated) proposed settlement between Google and commercial publishers a few years back. At a certain point, Google felt the agreement was in the bag. They then began sending lawyers around around the country to inform academic authors and others about how we could expect to function in the new world they envisioned. Indeed, they said, they were sure we would learn to love that new world over time. In fact, many academics were strongly against that proposed settlement for very good reasons, but things looked very bleak for the resistance at that time.
Then one day I heard that Pam had taken up the cause and was working hard against it with a few others. To the inexperienced eye, Pam and her colleagues were a small and lonely academic crew against mighty Google legal phalanxes that extended to the horizon like an endless sea of Orcs. However, as soon as I heard Pam was in the fight I immediately relaxed. Indeed, I remember thinking as I listened to a talk at the Boston Public Library by the very confident Google lawyers: Can't they see what is coming next? Don't they know they are now the walking (actually, limousine-riding) dead—about to experience the equivalent of the Lord of the Rings Ghost Army?)
So, in sum: Right on Pam, and right on, Authors Alliance! Keep it up! We are proud to be in this battle for Open Access with you!
Eric von Hippel is T. Wilson Professor of Innovation Management at the MIT Sloan School of Management, and is also Professor of Engineering Systems at MIT.  von Hippel graduated from Harvard College (BA), MIT (MS), and Carnegie Mellon University.  He is the recipient of three honorary doctorates, and numerous honors and academic prizes, such as the Humboldt Foundation Research Prize (2013), and the EU "Innovation Luminary" Award in 2015. 
von Hippel is known for his research into the sources of and economics of innovation. He has written three books on these topics, and also has published many articles in innovation management, ranging from the theoretical to the very practical.  Digital copies of all his books can be downloaded for free online from his MIT website at https://evhippel.mit.edu/books/