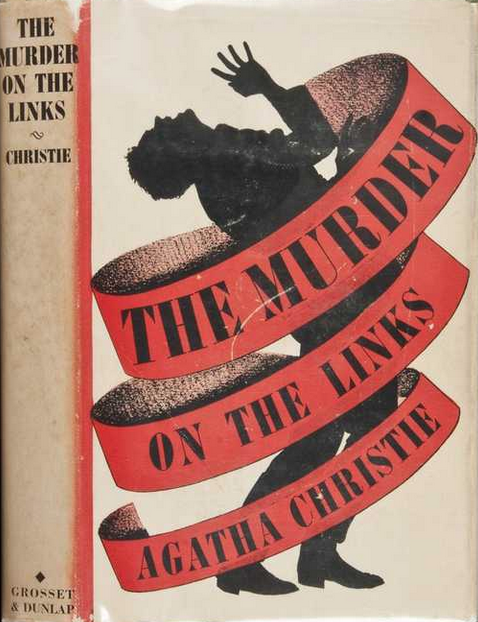 We thank Allison Davenport for the following contribution to our blog series, which celebrates works from 1923 that entered the public domain on January 1, 2019. Allison is a fellow at the Wikimedia Foundation (and a former legal research assistant at Authors Alliance).
Of the many works which entered the public domain on January 1st, I am personally most excited about Agatha Christie's novel The Murder on the Links. The Murder on the Links is Christie's third novel and the second novel featuring her eccentric Belgian detective Hercule Poirot. The novel, which revolves around Poirot and his confidant Hastings solving a complicated double murder plot in the north of France, was described in reviews at the time as "notably ingenious."* Like many of her novels, it exemplifies the conventions of British detective fiction, with a sharp-but-unusual detective, sensitive narrator, and stunning denouement that leaves readers reeling.
As a young, voracious reader, Agatha Christie was my constant companion through many a summer vacation. Agatha Christie's characters inspired me to be curious, to think outside the box, and to seek adventure. For me, the works of Agatha Christie entering the public domain presents an opportunity for an entire new generation of young girls to be introduced to her works, maybe even in new forms. The "Queen of Crime" has already had her works translated into 44 languages, and adapted into countless movies, radio plays, and even graphic novels. To me, however, the intricate plots, exotic locales, and well-developed characters that inhabit Christie's novels seem best suited to adaptation in an interactive form like a video game.
Studies show that 83% of teen girls between 13 and 17 play video games, and the primary motivations for women who play games are completion (i.e., finishing everything a game has to offer) and fantasy. Games which incorporate the detailed settings and plots of Christie's novels would be ideal to encourage and inspire young female gamers. Getting girls into video games is not just about entertainment. Studies show that when young girls play games, they develop confidence with technological hobbies and are more likely to enter STEM careers. Agatha Christie was a pioneer in a genre which had previously been dominated by male voices, and as her works become freely available to adapt in new ways, I am excited to see how she inspires new generations of women to do the same.
---
*New York Times Book Review, 25 March 1923 (p. 14)