We thank Robert Kirk Walker for the following contribution to our blog series, which celebrates works from 1923 that entered the public domain on January 1, 2019. Rob is a Supervising Attorney at the Samuelson Law, Technology & Public Policy Clinic at UC Berkeley, School of Law.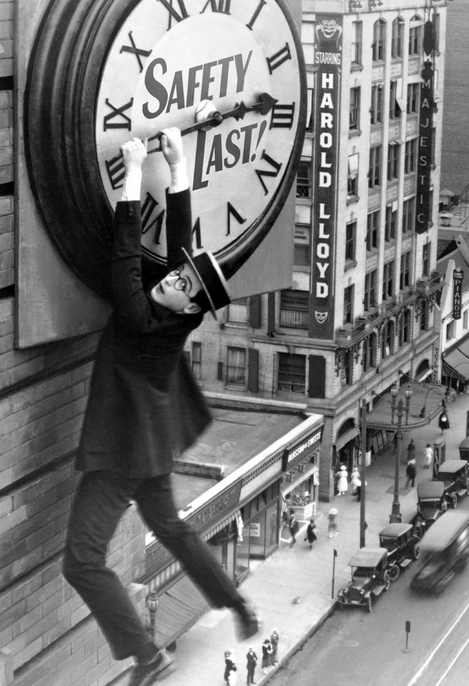 Do you like movies full of sly visual jokes, death-defying stunts, and ooey-gooey romance? Then, boy oh boy, do I have a film for you! Safety Last! is a romantic comedy starring Harold Lloyd, one of the most popular and influential film comedians of the silent era. Rivaling the best works of Charlie Chaplin and Buster Keaton, the film includes stunning chase sequences, daredevil physical feats, and one of the most enduring images in all of movie history: a man hanging from the hands of a clock above a busy city street.
In the film, Lloyd plays a quick-witted striver who moves to the big city so that he can "make good" and earn enough to marry his hometown sweetheart. He gets a job at a downtown department store, and hijinks quickly ensue, involving the store's snooty floor manager, mobs of sharp-elbowed customers, and an over-zealous policeman known simply as "The Law." Following lucky coincidences and near catastrophes, Lloyd eventually wins the day—and, of course, the girl—after executing a series of still-impressive stunts along the side of a 12-story building.
With its emphasis on visual spectacle, its maudlin rags-to-riches story, and its overall celebration of plucky derring-do, Safety Last! is a near-perfect example of silent-era Hollywood. Unfortunately, this means that, like other works from the period, the film also includes a number of ugly racial, ethnic, and sexual stereotypes, included for cheap laughs. As such, the film is a superb example of both the artistic wealth and moral poverty of early cinema.