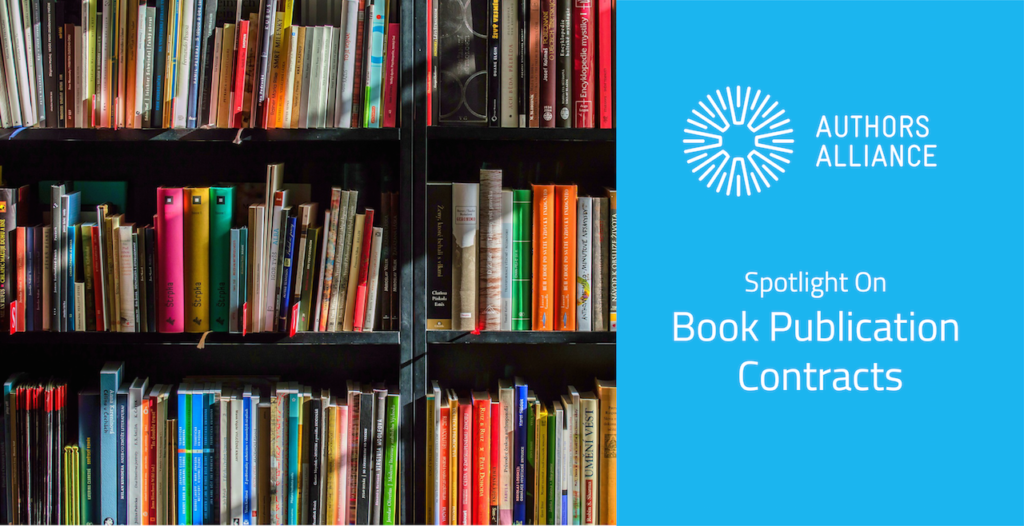 In our Spotlight on Book Publication Contracts series, we are shining the light on the ways that authors can negotiate for publication contract terms that help them make and keep their books available in the ways they want. This series is based on the information, strategies, and success stories in our guide to Understanding and Negotiating Book Publication Contracts. Be sure to check out the online or print version of our guide for more details on these and other strategies to help you meet your creative and pragmatic goals.
We've highlighted contract terms that help authors meet open access goals and featured ways authors can shape their publication contracts to retain some control over their rights. In this installment of our Spotlight on Publication Contracts, we're sharing ways you can shape your contract to give you a say in how your work will be presented to the world.
Contracts typically include clauses that allocate the decision-making authority for important parts of the publishing process—from the timing of publication to the title of the work. Your publisher will likely approach these decisions with an eye towards maximizing profit, which may well align with your interests. But you may also have a stake in these decisions because they can influence how you and your work are perceived by potential readers. In this post, we cover ways you can have a say in your book's cover design and the price of your book.
Cover Design
While a publisher's choices about the cover design for your book will likely reflect its best judgment on what will help the book sell. But sometimes, you may have strong preferences and want to include in your contract a right of approval over any cover design decisions.
Success Story: When Authors Alliance member Janice Rhoshalle Littlejohn negotiated the contract for her book Swirling: How to Date, Mate, and Relate; Mixing Race, Culture, and Creed, she encountered a provision that would allow her to pick a book cover out of three options. Because she knew that her book's theme would be challenging to portray artistically, she crossed out this provision and added in language giving her final say over the book's cover. Her publisher accepted this change. Later, when her publisher sent Janice three unappealing book covers to choose from, Janice proposed that a graphic designer she knew should design the cover instead. Her publisher initially balked, but when she pointed out that she had final approval rights her publisher relented and gave Janice the cover she wanted.
As an alternative, you could consider including a contract term giving you the right to be consulted as the cover design is contemplated. The publisher will still have the final say, but it will at least be obligated to consider your ideas in the process.
Pricing
Pricing is usually central to your publisher's marketing strategy. Your publisher will likely select a price for your book based on historical sales figures, prices of comparable books, cost of production, and other factors. But pricing is an important consideration for some authors. For example, some authors of academic books want to make their works available at a price that is affordable to students.
If it is important to you that your book is sold at a specific price, you can ask your publisher to share its anticipated production expenses and sales projections for your book so you can better understand its pricing strategy. If you understand what factors are driving your publisher's pricing decision, you could negotiate for specific changes—such as agreeing to a lesser page count or using fewer illustrations—that will help keep the price low.
Success Story: When Pamela Samuelson negotiated the contract for her forthcoming book, making it available at an affordable price in both hardcover and paperback editions was one of her key concerns. Therefore, before negotiating she looked at the price of other books on similar subject matter issued by the publisher. Professor Samuelson singled out those books that had a price within her acceptable range and whose page count and format were comparable to hers, and then told her publisher she wanted her work to be priced like those books. To sweeten the deal, she offered to forgo an advance on royalties, which would reduce her publisher's upfront costs. As a result, Samuelson was successful in getting her publisher to agree to price the book in the range that she wanted.
Even if you can't get your publisher to agree to sell your book at a specific price, there are still some indirect strategies you could pursue to make your book more affordable. For example, you can ask your publisher to release your book only in paperback, make it available as an e-book, or simultaneously release your book in hardcover and paperback.
For more on how to ensure you can provide input on the finishing touches of your book, including the timing for publication, the formats which it will be made available, its title, and design and production decisions, see pages 144-158 of Understanding and Negotiating Book Publication Contracts.