Summer is here—a great time to kick back with a good book. There are all kinds of reading lists out there, from fun reads for the beach to prize-winning books you might have missed, to books on a favorite hobby or a faraway destination. At Authors Alliance, we enjoy keeping up with all the latest news in copyright and IP, and we know that our members do, too. In fact, many of the authors and contributors featured below are Authors Alliance members, so we're especially pleased to highlight their work here.
We hope you enjoy these suggestions for new books that will inform and enlighten you about the latest in copyright, cultural studies, the public domain, and more!
_______________________________________________________
Our list begins with the brand new collection A History of Intellectual Property in 50 Objects, edited by Claudy Op den Kamp and Dan Hunter. This engaging book of essays by leading IP scholars shows how seemingly ordinary things, from sewing machines to champagne to Post-It Notes, have fascinating stories to tell.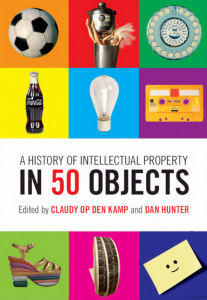 "What do the Mona Lisa, the light bulb, and a Lego brick have in common? The answer—intellectual property (IP)—may be surprising, because IP laws are all about us, but go mostly unrecognized. . . . In this lustrous collection, Claudy Op den Kamp and Dan Hunter have brought together a group of contributors—drawn from around the globe in fields including law, history, sociology, science and technology, media, and even horticulture—to tell a history of IP in 50 objects. . . . Each object is at the core of a story that will be appreciated by anyone interested in how great innovations offer a unique window into our past, present, and future."
— Cambridge University Press
_______________________________________________________
Next up is a helpful new book for those seeking a broad overview of key issues in IP. Aram Sinnreich's Essential Guide to Intellectual Property provides an engaging analysis of the role of copyright, patents, and trademarks in shaping and regulating industry, politics, and cultural expression. The book contains a wealth of illustrations and examples and is accessible to non-specialists, but, as Sinnreich writes in the Introduction, "If you are a scholar seeking a deeper, more critical understanding of copyright and IP but wish to avoid the partisanship of advocacy books and the clinical aridity of legal textbooks, this may be the book for you."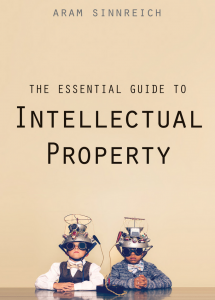 _______________________________________________________
Another excellent resource for legal education is Copyright Law: Cases and Materials, a brand-new casebook co-authored by Jeanne C. Fromer and Christopher Jon Sprigman of the NYU School of Law. In a win for scholars and researchers, the book is available as a free download under a Creative Commons license, and may also be purchased as a print-on-demand book for under $15—an accessible alternative to the traditionally-published casebook, which can cost students hundreds of dollars per copy.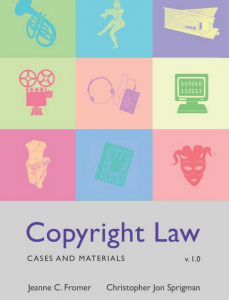 _______________________________________________________
Speaking of works that are freely available to the public: The re-opening of the public domain this past January revived questions about overly long copyright terms and why it took nearly a century for these works to (finally!) be free and accessible to all. (Our blog series "Celebrating the Public Domain" highlighted a few of these notable works, chosen by guest authors.)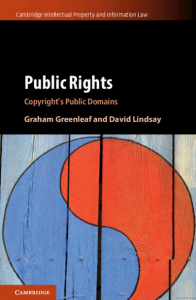 Public Rights: Copyright's Public Domains by Graham Greenleaf and David Lindsay, out in paperback next month, "re-defines the copyright public domain, and identifies fifteen categories of public rights that constitute public rights and how their implementation differs between jurisdictions. Through this analysis, and by explaining how the public domain is an important source of human creativity and autonomy, the authors aim to restore balance to copyright policy debates, and to contribute to such debates by making practical law reform proposals." An online supplement to the book with additional material (including the abstract quoted above) is available on SSRN, as is the authors' overview of the book.
_______________________________________________________
Meanwhile, Jennifer E. Rothman's latest book examines a different type of legal right: The Right of Publicity: Privacy Reimagined for a Public World analyzes the legal issues surrounding identity and publicity at a time when privacy is becoming more and more elusive.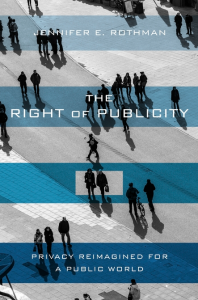 "Who controls how one's identity is used by others? This legal question, centuries old, demands greater scrutiny in the Internet age. Jennifer Rothman uses the right of publicity—a little-known law, often wielded by celebrities—to answer that question, not just for the famous but for everyone. In challenging the conventional story of the right of publicity's emergence, development, and justifications, Rothman shows how it transformed people into intellectual property, leading to a bizarre world in which you can lose ownership of your own identity."
— Harvard University Press
_______________________________________________________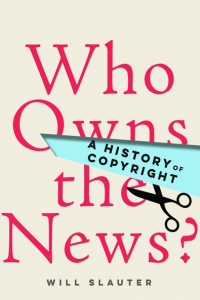 Last but not least, Will Slauter considers another timely topic in his new book, Who Owns the News? A History of Copyright. Through the lens of journalism, Slauter, an Associate Professor at Université Paris Diderot, examines how attempts to copyright news and control access to content run counter to the public benefit of a free press. From the emergence of the first newspapers to today's landscape of "alternative facts" and fake news, Slauter "explores the intertwined histories of journalism and copyright law in the United States and Great Britain, revealing how shifts in technology, government policy, and publishing strategy have shaped the media landscape."
_______________________________________________________
We hope you've enjoyed this list of hand-picked reads. If you'd like to stay up to date on the latest news from Authors Alliance, become a member today. It's free to join (though donations in any amount are always appreciated and go directly to support our mission of educating and empowering authors). Our members are the first to hear of our new educational resources and policy work!