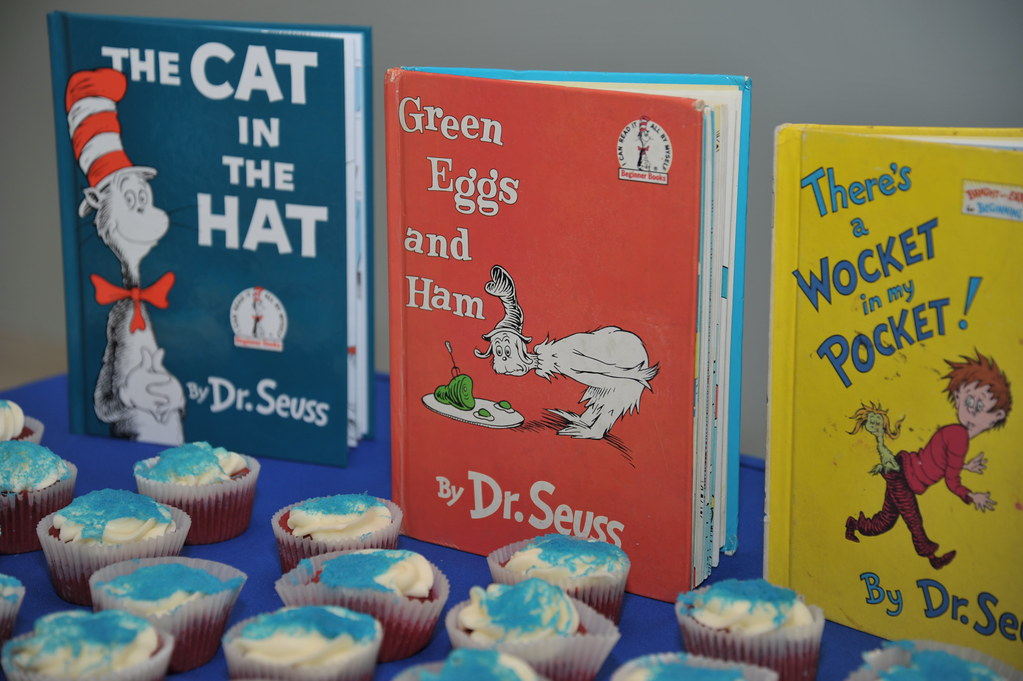 We thank Authors Alliance board member Thomas Leonard for this guest post. Leonard is a University Librarian Emeritus and a Professor of Journalism Emeritus at the University of California, Berkeley. He has served as the president of the Association of Research Libraries and as an Associate Editor of American National Biography. Leonard is also the author of three books on the development of American media.
This blog space has featured the most provocative books, briefs, and cases that our well-informed members discovered in 2020. With the benefit of hindsight, we probably made the wisest decision in illustrating a post, just before Thanksgiving, with the picture of an intense reader and Dr. Seuss's Hop on Pop. No work we cited, after all, has gained more attention in the English-speaking world.
Hop on Pop is the only volume mentioned last year that has its own Wikipedia page and, word-for-word (the volume we pictured has fewer than 150) it may be the shortest literary work to earn Wikipedia page honor. The lessons for IP grown-ups are many.
Theodor Seuss Geisel (1904-1991) has a place in the origin story of how open access publishing and an enormous corpus of digitized works open to readers took shape in the early years of this century. The Geisel Library at the University of California San Diego provided leadership. All the hard work of UC librarians across the state now rests safely in a full-text home for 8.5 million book titles. This repository has a name that Dr. Seuss would have loved: The HathiTrust, so spelled and punctuated, with a quizzical elephant the first thing you will see.
Hop on Pop draws on an honored tradition in children's literature: Unaccountable but engaging violence. Authors Alliance pictured an edition of Hop on Pop that dialed this down. The volume that the girl is reading has been abridged so that it will easily fit into her small hands. "Night Fight" is one of the adventures that was cut, though plenty of mayhem remains. For those looking for bright ideas about how to adjust content to age level, here is one. (Older kids who use the longer Hop on Pop to build reading skills get the full story on all the ways to gouge and bash at home.)
If you have encountered Dr. Seuss scholarship (conveniently available on a post from the BBC's culture desk), you may believe that Hop on Pop was Hop on Politics in Geisel's mind. Famously, Dr. Seuss did this with the environmental movement in The Lorax. We need not take an excursion back to the eddies of World War II propaganda and Cold War defiance that marked Geisel's career, as enlightening as this may be. It is the Seussville website where we should go, where the publisher of Hop on Pop for the past six decades has now done some surprising things.
Random House, owned by Bertelsmann, often does in court what we expect large media companies to do in protecting IP. Not long ago, the publisher challenged a mash up of Dr. Seuss and Star Trek. (The Ninth Circuit recently ruled that this was not fair use).
Seussville is obviously a marketing scheme to sell books and merchandise. But there is more to it than that. Random House offers lots of space for followers of Dr. Seuss to be creative with his work; the publisher preaches civic engagement. These are welcome, but unexpected outcomes for guardians of intellectual property.
Scores of Seuss characters, games and other activities are "Printable" on this site, surely a godsend to COVID-confined Americans with young families or their online teachers. The spirit of Seussville is that Seuss creations should be used and shared; no one pokes you in the ribs to watch out for copyright. The content is free.
Dr. Seuss's lessons go deeper than you'd expect, and not only in The Lorax tradition. One of the many elephants who is excited about the 2020 U.S. Census alerts kids that April 1, 2020 was the cut-off date for counting newborns. "Learn About Government with Dr. Seuss!" the site thundered during the 2020 campaign. Under the gaze of characters who were having bad hair days, school kids were instructed on how to cast ballots and, presciently, how to count them. This was a drive to get kids moving, "with a focus on the American Presidency!"
Much of IP talk is the talk of a zero-sum game, in which only a rights holder or a consumer can win. In 2021, and especially for kids, allowing for a liberal use of Dr. Seuss shows that this need not be true.