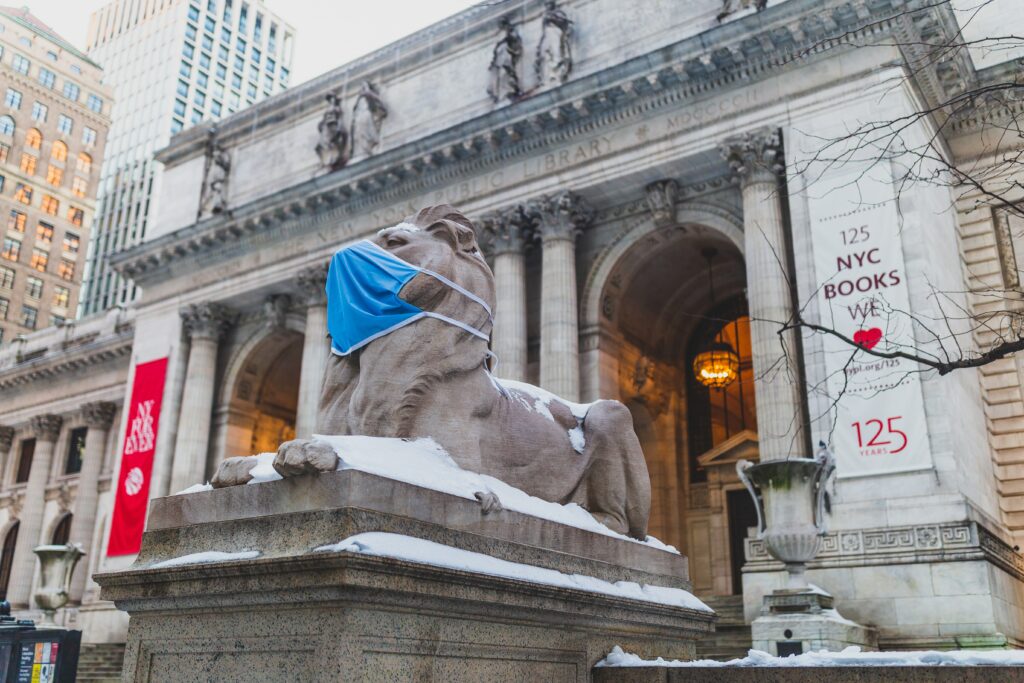 This is the first in a two post series on how libraries have responded to the COVID-19 pandemic, one year after the American Library Association recommended that libraries across the country close. Next week, we will discuss the ways in which libraries have expanded digital services, and notably e-book lending, for their patrons, and how this has served authors and readers. 
On March 17, 2020, the American Library Association ("ALA") recommended that libraries nationwide close in response to the challenges posed by the COVID-19 pandemic. One year later, many libraries remain shuttered or have scaled back their hours, services, and capabilities. But, as always, libraries have persevered. By adapting existing services to the needs of their communities during this extraordinary time, libraries have supported patrons struggling to cope with fallout from the pandemic despite physical spaces being limited. And by increasing virtual offerings and launching new preservation initiatives, libraries have supported authorship and preservation of knowledge, helping authors to meet their goals of seeing their works reach broad audiences—even when in-person audiences remain a distant memory.
Supporting Communities
After the ALA recommended that libraries close their physical operations, many library systems sought to branch out to continue to serve the needs of their communities even without being able to provide physical access for patrons. Libraries across the country have expanded wifi access to parking lots, sent out "bookmobiles" to deliver physical books to patrons, and offered curb-side check out. Since the effects of the pandemic have been felt to different degrees across the country, local libraries have worked to tailor these expanded services to the needs of the communities they serve. In Santa Monica, CA, a library has begun offering "seed libraries" so patrons can experiment with gardening, and in Columbus, OH, libraries adapted a longstanding program that provides free lunches to students during the summer into a "grab and go" format consistent with public health guidelines. Libraries in dense urban areas, such as the New York Public Library, have also adjusted their "curbside" offerings to reflect the needs of non-driving communities.
Supporting Authorship
Libraries have also supported authorship during the COVID-19 pandemic by connecting authors to their readers and launching initiatives to collect and preserve new creations. Virtual book clubs and other events for patrons have helped connect readers with books in the absence of in-person events. These book clubs also foster community, replicating (albeit imperfectly) the human connection library patrons previously relied on physical library spaces to provide.
One of the major ways libraries have elevated authors' voices during the pandemic is through organizing and hosting virtual author talks. These events are in many ways more accessible to readers than in-person talks, as patrons can view them without the time and expense of traveling to the library. The nature of the internet also means that virtual author events are in many cases not limited to patrons of a particular library, but open to all. Moreover, author talks can be recorded and preserved online permanently, helping authors reach more readers over time. The Library of Congress— the United States' library—moved its 2020 National Book Festival online, and have made the author talks and other events at the book festival available online for all to view. The Free Library of Philadelphia has a podcast dedicated to author talks and other lectures. While this podcast pre-dated the pandemic, it has taken on a new salience as a means to connect authors with readers. The Brooklyn Public Library hosts a wealth of author talks for children and adults, occurring multiple times a week, and anyone can register to attend its upcoming author talks for free. The State Library of Massachusetts also moved its monthly author talk series online in early 2020, making recorded author talks freely available online and allowing anyone to register for upcoming talks.
Another method libraries have used to support authorship during the pandemic is the development of "quaranzines." Quaranzines are a form of the "zine" publication, and have served as dedicated platforms for community members and authors to contribute creative expression made during the pandemic and help their works reach readers. Libraries, universities, historical societies, and other institutions have launched quaranzines of their own and made these available online.
The East Flagstaff Community Library in Flagstaff, AZ developed a quaranzine project for children in which five picture book authors worked together to develop 20 separate writing and drawing prompts for public school students. Students responded to the prompts, and the collected writings and drawings of the students were bound together in books. These children's quaranzines are available online under a Creative Commons license so they can be shared and distributed for non-commercial purposes, with the intent that they be used as educational resources in the future.
In Arlington County, VA, the public library system has released weekly quaranzines documenting community members' experiences during the pandemic. The City of Monona Library in Monona, WI also has an ongoing quaranzine project, and the St. Mary's County Library system in St. Mary's County, MD has an upcoming edition of its quaranzine planned to revisit the experience of living through the pandemic now that a year has passed since in-person operations were shut down. These initiatives give voice to authors and elevate voices of new or unpublished authors and writers, helping make authorship available and accessible to all.
Supporting Preservation
In addition to producing and preserving quaranzines and recorded author talks, libraries have taken other approaches to ensuring the preservation of knowledge and of the history of this extraordinary time. One such approach is creating archives of experiences of community members during the pandemic.
The New York Public Library has launched a "Pandemic Diaries" project that collects personal recollections of the past year to preserve a record of this pandemic. And libraries and other public institutions across the country have launched preservation initiatives to create a snapshot of this time in history: the University of Nebraska Omaha academic library has undertaken a similar project to the NYPL's, with a focus on preserving the experiences of "the diverse voices of our community . . . that have previously been ignored in archives and the historical record." The White Plains library in Westchester, New York is developing a new "Documenting COVID Collection" to remain part of the library's permanent collection after the pandemic is over. And the Indiana Historical Society has launched a state-wide initiative to document Indianans' experience living through the pandemic. Each of these archival projects seek to create a record to aid future writers, researchers, and historians, and ensure that the archives reflect the experiences and values of their community members. We encourage our members and readers to consult their local library, historical society, or academic library to see if similar projects are underway so you too can add your voice to the developing historical record of the past 12 months.