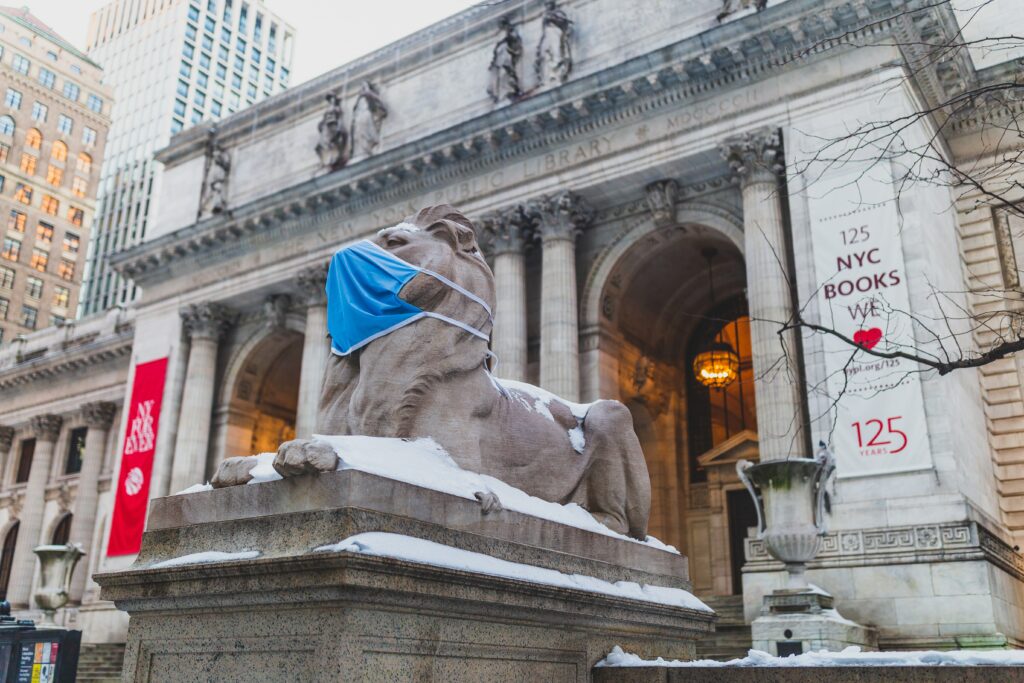 This is the second in a two post series on how libraries have responded to the COVID-19 pandemic, one year after the American Library Association recommended that libraries across the country close. Last week, we discussed the ways in which libraries have supported communities and readers through expansion of traditional services and new initiatives aimed at preservation.
On March 17, 2020, the American Library Association ("ALA") recommended that public libraries across the country close in response to the challenges posed by the COVID-19 pandemic. That same day, publishing conglomerate Macmillan (one of the so-called "Big Five" publishers that dominate much of the trade book market) announced it would end a controversial embargo on sales of e-books to libraries, also stating its intention to temporarily lower prices on some library e-book licenses "to help expand libraries collections in these difficult times."
One year later, many libraries remain shuttered or have scaled back their hours, services, and capabilities. Yet e-book lending has skyrocketed, as e-books can be checked out by patrons from the safety of their homes. Libraries have adapted to this increased demand in a variety of ways despite limited resources and budgets. By increasing digital offerings with a special emphasis on making e-book lending available to patrons, libraries have pivoted to serve the needs of a community forced by external circumstances to turn to the internet for information, culture, and human connection.
Library E-Book Lending in the "Before Time"
Prior to the start of the pandemic, a dispute between publishers and libraries on the subjects of e-book pricing and availability to patrons had been quietly simmering. Between 2018 and 2019, four of the Big Five publishers changed licensing terms and raised prices of e-books for libraries. And the bookselling giant Amazon, which has launched its own publishing operations under the name "Amazon Publishing," has taken an even harsher approach to e-book library lending: it refuses to sell its titles to libraries altogether. In a statement to the Washington Post, a representative from Amazon Publishing stated that it was "not clear to us that current digital library lending models fairly balance the interests of authors and library patrons[.]" 
In general, libraries are able to loan out e-books because they acquire licenses to do so. Typically, a copy cannot be checked out by more than one patron at a time and only for a set number of times (with 26 and 52 checkouts being most common), and the licenses may also be limited duration, typically one to two years. Moreover, libraries pay up to five times more for e-books than consumers do. This custom reflects the fact that a library lends each e-book out multiple times, with multiple end readers rather than the single user who buys an e-book from Amazon or the iBook store. But libraries are typically charged the same price for physical books as are consumers, creating an imbalance in access across the two formats. This imbalance has become all the more salient during the pandemic due to the limitations on access to physical books and the budgetary constraints that are felt around the country. 
By 2018, 90% of American libraries offered digital loans. As e-book library lending increased in popularity, publishers argued that the popularity of library e-book lending led to reduced profits. In 2019, Macmillan revealed that its revenue per library e-book read was down to "two dollars and dropping," apparently "a small fraction" of what it makes on consumer purchases. Macmillan and other large publishers complained that the "frictionless" nature of e-book lending means that readers can acquire e-books with the same relative ease as purchasing those e-books. But there is reason to believe the fear that library e-book lending hurts e-book sales is ill-founded—in the first 10 months of 2020, when library e-book checkouts began to increase dramatically, the American Association of Publishers reported that e-book sales had increased by over 16% rather than dropping as more readers turned to library e-books.
Library E-Book Lending During the Pandemic
During the pandemic, library e-book lending increased manifold across the country. In April 2020, the Congressional Research Service reported that demand for e-books (both from libraries and readers who purchased e-books) had increased significantly, and that libraries and organizations were searching for lending models to address this increased demand. OverDrive, the nation's leading e-book lending platform and maker of the "Libby" library lending app, saw checkouts increase by over 50% during the early months of the pandemic, and many individual library systems similarly saw large increases in e-book checkouts. New library partnerships with hoopla, another leading lending platform, have resulted in a 20% increase in membership for the platform. At the most basic level, this uptick in demand is not difficult to understand: without access to physical library spaces, e-book lending became for many patrons the best option to continue to access works at their local libraries.
To keep up with the increasing demand for e-book loans and better meet patrons where they are, libraries have adapted their programs and procedures to make e-book checkouts more accessible. Libraries began by investing in more e-book licenses and increasing spending on "digital resources." As the pandemic progressed, libraries around the country began allowing patrons to apply for and obtain library cards online so that new patrons could access e-book offerings. Library systems have also increased investments in new e-book licensing models, such as the "concurrent use model," which allow libraries to license a "bundle" of loans to meet high demand that do not expire. This model is particularly attractive for public school students, and it has been used to facilitate access to texts during remote learning. Another lending model that has increased in popularity during the pandemic is the deployment of "skip-the-line" or "lucky" copies of new and popular titles. This system allows patrons to choose to check out an e-book for a shorter checkout window, but to avoid long waitlists that can plague popular titles available for regular check out. And this summer, libraries worked to support patrons grappling with racial injustice following the killing of George Floyd and protests across the country by working with OverDrive to offer extended checkouts for books on anti-racism.
Publishers have also adapted their e-book license terms to be more library- and reader-friendly, recognizing the importance of library lending for the American public. By the end of March 2020, all of the Big Five publishers had announced relaxations of their e-book license terms, reducing prices on e-books for libraries by up to 50% and developing "cost per circulation" catalogues that allowed libraries to pay fees per e-book loan for certain titles rather than requiring an upfront payment for a license of limited duration. But these measures were largely intended to be temporary to help libraries struggling to meet their patrons' needs during the pandemic, and where library e-book lending will go from here is uncertain.
An Uncertain Future for Library E-Book Lending
While progress has been made towards making knowledge and culture more accessible through relaxing barriers to entry for e-book library lending, it is unclear whether publishers and other intermediaries will return to the state of play prior to the pandemic.
Recognizing the need for fair and balanced license terms for library e-books, several states have introduced legislation mandating that publishers must offer libraries e-books that are available to retail consumers, and must do so on "reasonable terms." And, in Maryland, such a bill was recently approved unanimously by the state legislature, and is currently awaiting final approval by the governor. Amazon Publishing, which until recently refused to budge on its ban on selling e-books to libraries, is reportedly in talks with the Digital Public Library of America to make Amazon Publishing titles available to libraries across the country through DPLA's lending platform. ReadersFirst, a library organization that advocates for library users' ability to use loaned e-books in the way they use print books, is optimistic that other publishers may follow suit and work to make their e-books more accessible to libraries and their patrons.