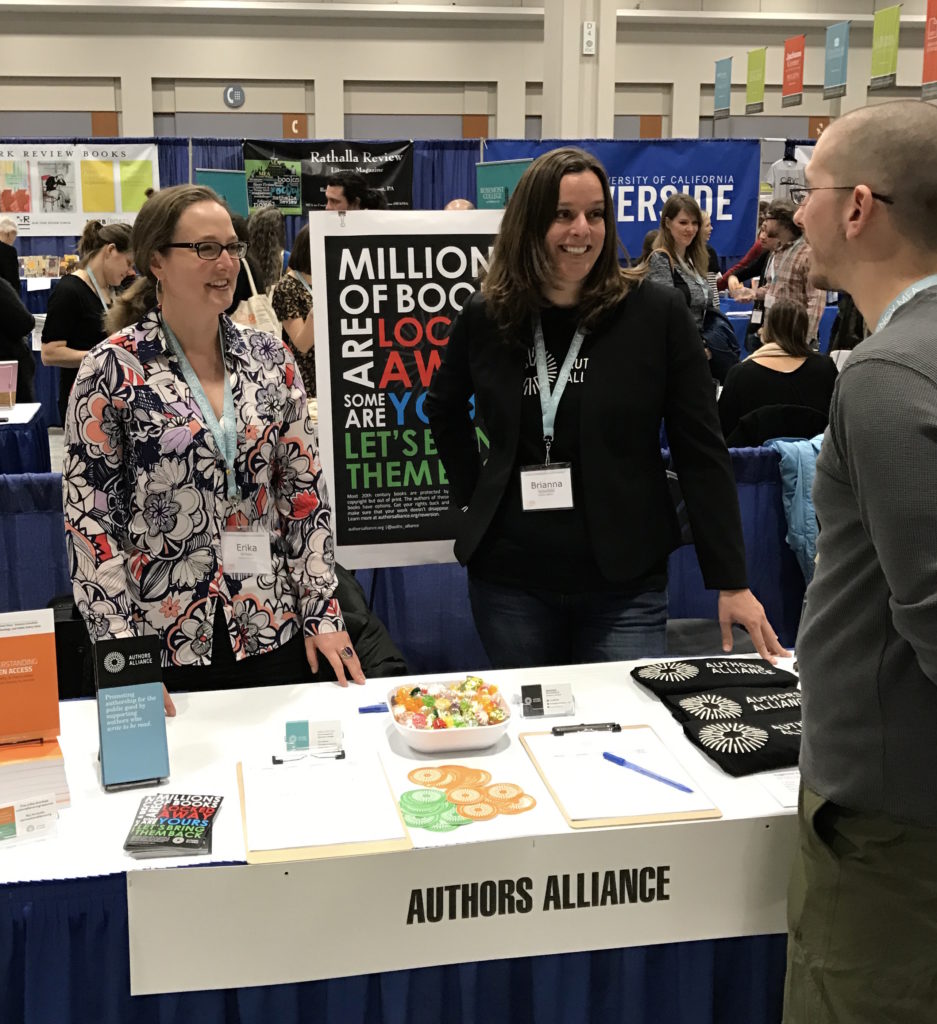 The Authors Alliance team is back from Washington, DC, and we're happy to report that our time at the 2017 Association of Writers and Writing Programs (AWP) conference was a great success. We'd like to extend a warm welcome to the many new members who joined Authors Alliance at AWP!
Now in its 50th year, the AWP conference draws 12,000 attendees, including MFA students, writing teachers, publishers, booksellers, and authors of all stripes. From February 9-11, Brianna Schofield and Erika Wilson hosted a table at the AWP Bookfair and were gratified by the level of interest and engagement from the writing community. Conference attendees kept us busy with questions about our resources and tools, especially our rights reversion handbook and our forthcoming guides to publication contracts and to best practices in fair use. We were thrilled to have so many enthusiastic new members join Authors Alliance. If you'd like to be part of our growing community of authors and creators, it's easy to sign up online (basic membership is free).
In addition to staffing a robust information table, we also presented a conference panel on "Demystifying Copyright: A Crash Course in the Law of Literature," featuring Authors Alliance executive director Brianna Schofield and intellectual property expert Rebecca Tushnet of Georgetown Law School. (Our third panelist, Jessica Silbey of Northeastern University, was unable to attend due to winter weather in Boston.) The session drew a large and engaged audience, and a number of attendees told us that it was the most useful panel they attended during the conference. We discussed topics ranging from Creative Commons licenses to fair use to publication contract language.
We thoroughly enjoyed this wonderful opportunity to meet hundreds of writers, share our resources, and share the Authors Alliance mission with our new members!