Fair use, as many of our readers know, can be a tricky concept to pin down. What exactly does fair use mean? What makes it such an important part of U.S. copyright law? What are the "four factors" that courts consider when evaluating claims of fair use? And, perhaps most importantly of all, how does fair use support authors' research, writing, and publishing goals?
Authors who want to incorporate source materials with confidence, while also respecting copyright and the integrity of their fellow creators, may find themselves faced with more questions than answers. Fortunately, help is at hand!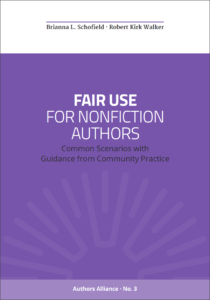 Authors Alliance released a brand-new guide to Fair Use for Nonfiction Authors last week. Although the guide was designed around the needs of nonfiction authors, much of the information applies to authors across disciplines. After all, many questions and misconceptions about fair use overlap regardless of genre. The FAQ section of the guide addresses some common questions, such as:
Can I still claim fair use if I am using copyrighted material that is highly creative?
What if I want to use copyrighted material for commercial purposes?
Does fair use apply to copyrighted material that is unpublished?
Learn the answers to these and other fair use questions at our new Fair Use Resources page. While you're there, you can also download a PDF version of the guide. A print edition is forthcoming in February 2018, and Authors Alliance members can sign up for the pre-order list by emailing us at info@authorsalliance.org.
If you're not yet a member, we encourage you to join today! And if you value this and other Authors Alliance resources, please consider a donation to support our 2017 gift campaign.