As Authors Alliance HQ wraps up a very busy inaugural year, it seems like a good time to reflect on what we've done so far and look ahead to how we plan to keep the pace in 2015. This is our 2014 year in review!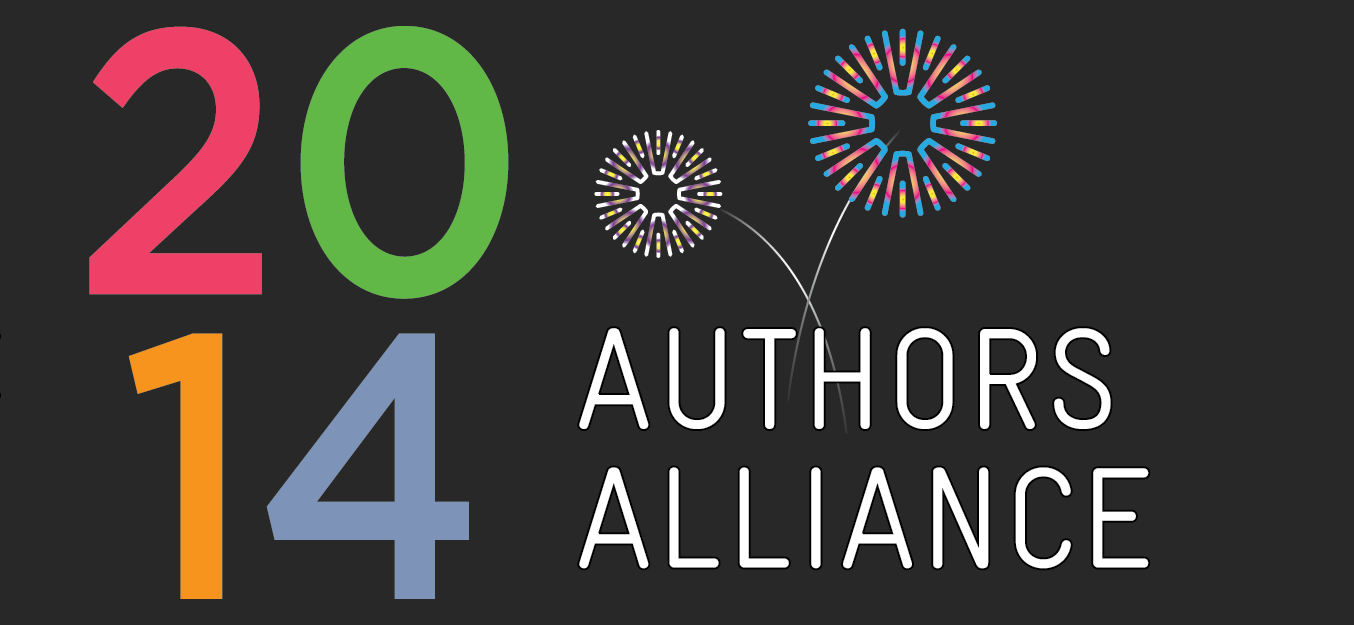 Authors Alliance launched in May with a kickoff event at the Internet Archive in San Francisco. At the launch, we released a set of principles and proposals to guide copyright reform efforts in order to better support public-minded authors and creators.
In July, we filed a friend-of-the-court brief in the Authors Guild vs. Google case in support of Google's fair use defense. At issue was Google's scanning of in-copyright books in order to make them searchable (but not readable) by the public. Our brief points out that authors who write to be read benefit from Google's digitization and indexing of their books because this makes our works more discoverable without threatening our commercial interests.
And this fall, we initiated a petition to the Library of Congress to allow authors to bypass technical protection measures in order to make fair uses of video content in multimedia e-books.
In keeping with our mission, we joined with allies throughout the year to stand up for our principles on questions of public policy.
Authors Alliance has also dedicated considerable effort toward making resources that will help our members manage their rights and reach more readers. Our emphasis this year has been on developing a soon-to-be-released set of guidelines for authors who want to revert or reclaim rights in their works so they can be made more widely available.
We have also posted FAQs and other resources on topics such as fair use, open access, and copyright ownership, as well as blog posts on litigation, legislation, and other developments of significance to authors who want their works to be widely available.
Events and gatherings have been an important part of our year. In October, we participated in a Columbia Law School conference on making copyright law work for authors and we organized a panel discussion of authors, publishers, and other stakeholders at Harvard University, co-sponsored by the Berkman Center and the Harvard Office of Scholarly Communication, on "Authorship in the Digital Age: How to Make it Thrive." A video of the Harvard event is is available online. Finally, we kicked off our workshop series this November with a first one on copyright and contract issues on the Berkeley campus.
So what's on the agenda for 2015? First and foremost, we will continue to provide resources for authors, with projects planned on attribution practices, clarifying fair use in nonfiction writing, and common pitfalls in publication agreements. And our events calendar is filling up fast, with Authors Alliance planning panels, discussions, and workshops in Ann Arbor, Toronto, New York City, and the San Francisco Bay Area. As always, we'll be vocal on matters of public policy that effect authors who write to be read.
Do you have ideas on how Authors Alliance can help support public interest authorship? Would you be interested in hosting an Authors Alliance event in your community? Let us know!