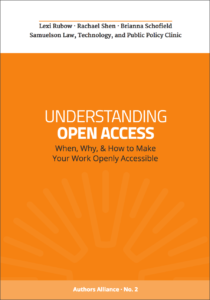 In celebration of Open Access Week, we are offering sneak previews of our forthcoming guide, Understanding Open Access: When, Why, & How To Make Your Work Openly Accessible. This guide is the second volume in our series of educational handbooks, following on the success of Understanding Rights Reversion. Our goal is to encourage our members to consider open access publishing by addressing common questions and concerns and by providing real-life strategies and tools that authors can use to work with publishers, institutions, and funders to make their works more widely accessible to all. We will officially launch the guide on November 3 during our workshop on "Writing To Be Read" at the New York Public Library. In the meantime, here's a short excerpt from Chapter 2 on the benefits of open access.
---
Open access removes price barriers and harnesses the power of the Internet to enable readers to find works more easily. For example, openly accessible works are often full-text indexed, helping potential readers easily locate a work using a search engine, and, importantly, access the work without being turned away by pay walls.
As a result of this increased discoverability and access, some authors find that open access increases their readership. The majority of studies find that open access leads to a greater number of citations. Regardless of whether their works are in fact cited more frequently, many authors find that open access increases their works' visibility, helping it to reach readers and benefit the public.
Shawn Martin is a Scholarly Communication Librarian at the University of Pennsylvania and Authors Alliance member. Open access facilitated the translation and wide dissemination of Mr. Martin's work. After he deposited an article about library publishing infrastructure in the University of Pennsylvania's Scholarly Commons repository, a group of librarians found Mr. Martin's article and, with his permission, translated it into Romanian. The work was subsequently translated into Russian and several other Eastern European languages. Because Mr. Martin's article has been translated into so many languages, it is cited in proceedings and conferences around the world. According to Mr. Martin, "Opening up access can allow audiences you never intended to find value in your work, and in my view that's a great thing."
Some authors have even found that widespread dissemination of their openly accessible works stimulates demand for print copies of their works, contributing to royalties for these authors.
---
We will post excerpts from Understanding Open Access throughout the week. If you have questions or comments, or wish to share your own experiences with open access publishing, get in touch and let us know!