Summer is here, and it's the perfect time to relax with a good book. There are all kinds of reading lists out there—from fun reads for the beach, to prize-winning books you might have missed, to books on a favorite hobby or a faraway destination. Here at Authors Alliance, we like to keep up our copyright chops all year 'round, and we know that many of our members do, too. So, for a slightly different take on summer reading, here are some suggestions for new books that will keep you up to date on the latest in copyright, open access, and more!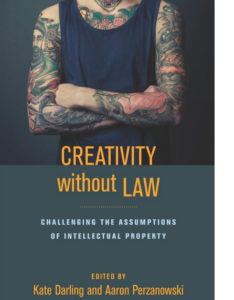 First up is Creativity without Law: Challenging the Assumptions of Intellectual Property,  edited by Kate Darling and Aaron Perzanowski, and published by NYU Press. This collection features essays about diverse creative communities by a number of noted IP scholars (and Authors Alliance members!), including David Fagundes, Aaron Perzanowski, Christopher Sprigman, Katherine Strandburg, Rebecca Tushnet, and Eric Von Hippel.
The book demonstrates how creative endeavors, from cinema and fanfic to fine cuisine and roller derby, push the boundaries and assumptions of intellectual property through community norms and self-regulation. As Perzanowski and Darling write in their introduction, "While IP is a crucial tool for maintaining creative incentives in some industries, scholars of creativity already understand that the assumptions underlying the IP system largely ignore the range of powerful non-economic motivations that compel creative efforts. From painters to open source developers, many artists and inventors are moved to create, not by the hope for monetary return, but by innate urges that are often quite resistant to financial considerations."
In a similar vein is Made by Creative Com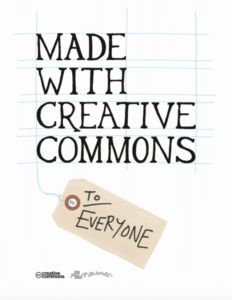 mons, by Paul Stacey and Sarah Hinchliff Pearson. It's a collection of real-life examples that highlights the advantages of using CC licenses, both for sharing work and for building a sustainable business model. Case studies include everything from the party game Cards Against Humanity to the Public Library of Science (PLoS) to the Rijksmuseum in Amsterdam.
"Part analysis, part handbook, part collection of case studies, we see Made With Creative Commons as a guide to sharing your knowledge and creativity with the world, and sustaining your operation while you do. It makes the case that sharing is good for business, especially for companies, organizations, and creators who care about more than just the bottom line. Full of practical advice and inspiring stories, Made with Creative Commons is a book that will show you what it really means to share."
The book is available as a free download (under a CC license, of course!), and may also be purchased in a print edition.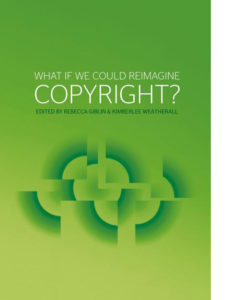 New in paperback from Australian National University Press is What if We Could Reimagine Copyright?, a collection of essays by international scholars about the possibilities of copyright, edited by Authors Alliance members Rebecca Giblin and Kimberlee Weatherall. Like Creative Commons, ANU Press offers the book as a free download, as well as in print.
"What if we could start with a blank slate, and write ourselves a brand new copyright system? What if we could design a law, from scratch, unconstrained by existing treaty obligations, business models and questions of political feasibility? Would we opt for radical overhaul, or would we keep our current fundamentals? Which parts of the system would we jettison? Which would we keep? In short, what might a copyright system designed to further the public interest in the current legal and sociological environment actually look like? Taking this thought experiment as their starting point, the leading international thinkers represented in this collection reconsider copyright's fundamental questions: the subject matter that should be protected, the ideal scope and duration of those rights, and how it should be enforced."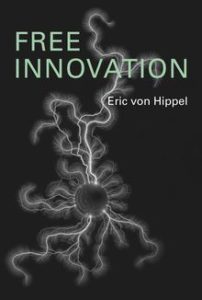 Finally, we recommend Free Innovation by Eric Von Hippel, available in full as an open access title from MIT Press.
"Free innovation has both advantages and drawbacks. Because free innovators are self-rewarded by such factors as personal utility, learning, and fun, they often pioneer new areas before producers see commercial potential. At the same time, because they give away their innovations, free innovators generally have very little incentive to invest in diffusing what they create, which reduces the social value of their efforts.
The best solution, von Hippel and his colleagues argue, is a division of labor between free innovators and producers, enabling each to do what they do best. The result will be both increased producer profits and increased social welfare—a gain for all."
Von Hippel's book is just one of many titles that MIT Press has made openly available, and thanks to an exciting new partnership with Internet Archive, the MIT Press backlist will soon be available online as well. We're following that project with great interest, and will provide more information and updates, so stay tuned for even more great reading to come!