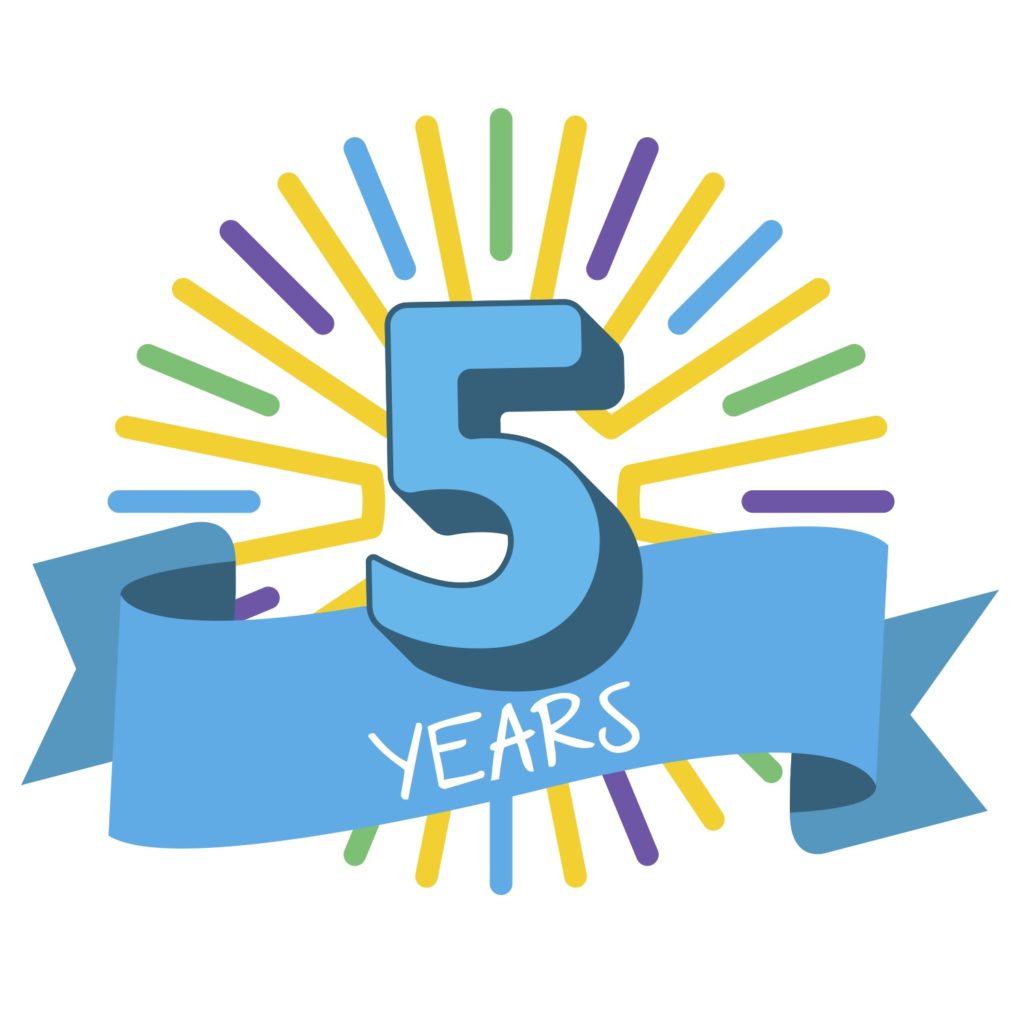 In honor of our fifth birthday, we're sharing this collection of highlights from the first five years of Authors Alliance. Many of our members have been with us from the beginning, and we thank you for your ongoing support and engagement. For our newer members, we hope this overview is a helpful summary of what we're all about. And if you're not yet a member of Authors Alliance, we encourage you to join today!
Year 1: 2014

Authors Alliance was launched in May 2014 by our founding board members Pamela Samuelson, Carla Hesse, Tom Leonard, and Molly Shaffer Van Houweling, all of UC Berkeley.
It all began in with a kickoff event at the Internet Archive in San Francisco, where we released a set of principles and proposals to guide copyright reform efforts in order to better support public-minded authors and creators.
In July of 2014, we filed an amicus brief in the Authors Guild vs. Google case in support of Google's fair use defense, arguing that authors who write to be read benefit from Google's digitization and indexing of their books because this makes works more discoverable without threatening commercial interests. Fair use continues to be a key advocacy issue for Authors Alliance today.
In September, Mike Wolfe was hired by the Board as Executive Director—the first (and, for a time, the only) employee of Authors Alliance. Mike took over our policy and communications and was responsible for shaping our agenda and our initial successes as an organization.
We also kicked off our series of educational guidebooks with Understanding Rights Reversion: When, Why & How to Regain Copyright and Make Your Book More Available. The book is a step-by-step guide to working with publishers to regain rights to books so that they can be made available in the ways that authors want.
Year 2: 2015

2015 marked our first full year as an organization. A grant from the John D. and Catherine T. MacArthur Foundation provided crucial support that enabled Authors Alliance to expand our operations, and thanks to a grant from the Andrew W. Mellon Foundation, we expanded the scope and reach of our rights reversion project, taking our message to audiences at workshops around North America. To demonstrate the benefits of rights reversion, we also kicked off our series of "Rights Reversion Success Stories" in 2015, and we continue to feature these and other success stories on our blog today.
In July, Erika Wilson joined Authors Alliance as our Communications & Operations Manager and first full-time staff hire.

November saw the launch of our second educational guide: Understanding Open Access: When, Why & How To Make Your Work Openly Accessible. The guide encourages authors to consider open access publishing by addressing common questions and concerns and by providing real-life strategies and tools that authors can use to work with publishers, institutions, and funders to make their works more widely available.
Year 3: 2016

In April, we welcomed Jeffrey MacKie-Mason to the Authors Alliance Board of Directors, expanding the number of board members to five.
Also in April, as a companion to our rights reversion handbook, we released a concise guide to writing a reversion letter. Complete with templates, this mini-guide assists authors in approaching their publishers to initiate a productive conversation with the goal of regaining rights.
In October, we launched the beta version of rightsback.org. This online tool, developed with our allies at Creative Commons, is designed to help authors navigate the termination of transfer provisions of U.S. copyright law. Complementing our efforts around rights reversions, our tool helps authors (or, in some cases, their family members) to regain rights to creative works signed away many years ago.
We also responded to the U.S. Copyright Office's call for further comments regarding anti-circumvention provisions in Section 1201 of the Digital Millennium Copyright Act. This comment supported a permanent exemption that would improve access to copyrighted works by people who are print disabled.

Year 4: 2017

The beginning of 2017 was bittersweet, as we said farewell to founding Executive Director Mike Wolfe, and welcomed Brianna Schofield as our ED. Although new to this role, Brianna was no stranger to Authors Alliance; she already had extensive experience in working on our core issues as a co-author of all of our educational handbooks.
In 2017 we celebrated the publication of Fair Use for Nonfiction Authors: Common Scenarios With Guidance from Community Practice, a guidebook designed to help nonfiction authors make confident fair use decisions when incorporating source materials into their works.
We also continued our policy efforts in support of fair use. In February, we filed an amicus brief with the 11th Circuit in Cambridge University Press v. Albert, arguing that incentives to write and publish scholarly works would not be impaired by a ruling that nonprofit educational uses of chapters from scholarly books is fair use.
We continued to engage with the U.S. Copyright Office on behalf of our members. In March 2017, we supported the case for authors' non-economic rights, including attribution, integrity, and the rights to revise and revive one's work. An in July, we recommended way the Office can modernize copyright recordation to improve records and reduce the number of works likely to become orphans.
In October, we launched our Termination of Transfer tool at rightsback.org out of beta and, to complement the tool, developed guidance and templates for notices of termination.
Year 5: 2018

Our key milestone for 2018 was the release of our guide to Understanding and Negotiating Book Publication Contracts. This guide is the newest addition to our growing library of resources for authors, which also includes handbooks on rights reversion, open access, and fair use. The guide helps authors understand how to approach negotiation, what kinds of clauses to look for (and which to avoid), and how to engage in productive conversations with agents and publishers to ensure author-friendly contracts that align with their creative and pragmatic goals.
Understanding and Negotiating Book Publication Contracts would not have been possible without the support of our community of friends and members. We ran the first-ever Authors Alliance Kickstarter project, "Know Before You Sign on the Dotted Line," in the spring, and we were thrilled to exceed our funding goal, thanks to our project backers.
We also released a report, Authorship and Accessibility in the Digital Age, based on a roundtable discussion among content creators, technologists, attorneys, academics, and advocates about the role of creators in making digital works more widely accessible to people with disabilities.
Among our other advocacy efforts in 2018, we endorsed the Controlled Digital Lending Position Statement and released a statement explaining how digitize-and-lend models can help authors reach readers. We continued our advocacy for exemptions to the Digital Millennium Copyright Act. At World Intellectual Property Organization committee meetings in Geneva, we made the case for reasonable international limitations and exceptions to copyright for educational and research purposes, sharing how they can benefit authors and encourage the diffusion of knowledge. We also weighed in on termination of transfer provisions under consideration in South Africa and Canada.
Also in 2018, Authors Alliance received a $500,000 grant from Arcadia—a charitable fund of Lisbet Rausing and Peter Baldwin—to enhance the ability of institutions to serve the scholarly communications needs of their author communities. Thanks to this two-year grant, we are currently developing the Authors Alliance Partner Program (A2P2), a suite of training and curricular materials for scholarly communications officers, librarians, and other staff at member institutions.

We look forward to continuing this work throughout 2019 and beyond, with the goal of making our institutional member portal a one-stop shop for scholarly communications information and resources that will increase the capacity of those who advise and serve authors.