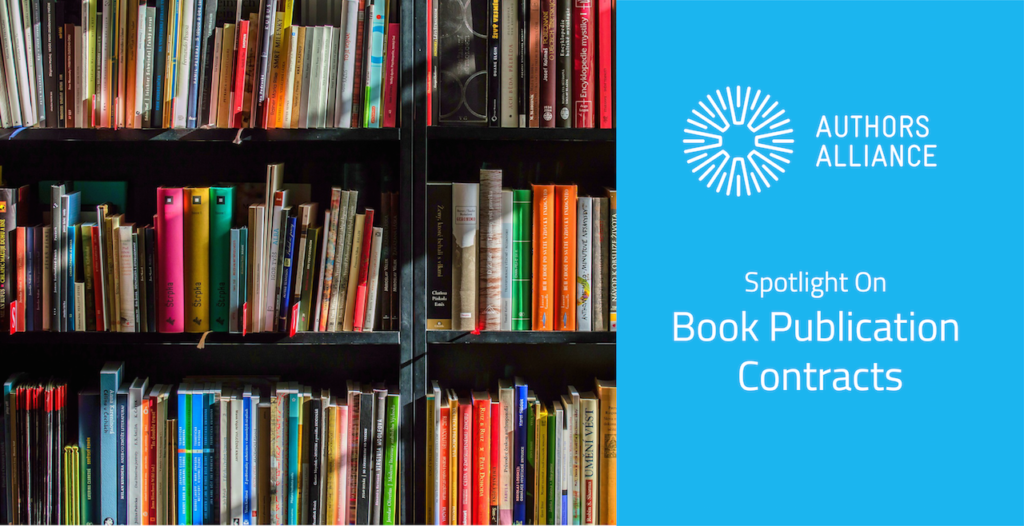 In October 2018, we released our guide to Understanding and Negotiating Book Publication Contracts and made it available as a free Creative Commons-licensed download as well as in print in the Authors Alliance store. The guide identifies clauses that frequently appear in publishing contracts, explains in plain language what these terms (and typical variations) mean, and presents strategies for negotiating "author-friendly" versions of these clauses.
As a companion to the guide, we've featured a series of blog posts over the past year that shine the spotlight on the ways that authors can negotiate for publication contract terms that help them make and keep their books available in the ways they want. To make these informational posts easier to find, we've gathered them into one handy list for your reference:
The Grant of Rights
The grant of rights is the heart and soul of your publication contract. It specifies what rights in your work you are giving to your publisher and what your publisher can do with these rights. These rights can be broad (e.g., the right to print and sell copies of your work anywhere in the world, forever) or they can be narrow (e.g., the right to sell a limited edition in a specific market for a set period of time). In this post, we share more ways you can shape your publication contract to retain some control over your rights, either by limiting the grant of rights or by securing the right to approve or be consulted about how your work is used.
Fair Use and Third Party Permissions
Does your book contain references to other creators' works? This piece highlights an important aspect of your publication contract that defines whether your publisher expects you to obtain permissions for any third-party content—such as excerpts or images—you use in your book, or whether your contract explicitly allows you to rely on fair use.
Open Access Success Stories
Learn strategies that can help make your book openly available at different stages of the book's life cycle and how to shape a publication contract to accommodate these options. Be inspired by real success stories from authors who have successfully negotiated for terms in their publication contracts that enable them to meet their open access goals.
Cover Design and Pricing
Contracts typically include clauses that allocate the decision-making authority for important parts of the publishing process. Your publisher will likely approach these decisions with an eye towards maximizing profit, which may well align with your interests. But you may also have a stake in these decisions because they can influence how you and your work are perceived by potential readers. This post shares some ideas for tailoring your contract to give you a say in how your work will be presented to the world.
Follow the Money
Rights management and design decisions may not be the only thing on your mind in a book deal. This installment of our spotlight series focuses on ways that you can shape your contract to help secure fair compensation for your work. Contract terms governing advances and royalties are two key ways that your contract determines what money will flow to you.
_______________________________________________________________________
Be sure to check out our Publication Contracts resource page for more details on these and other strategies to help you meet your creative and pragmatic goals.