This Workshop in a Box (WIB) contains everything you need to prepare for and deliver a workshop for graduate students interested in learning more about the copyright issues that may arise as they navigate their scholarship. By the end of the presentation, attendees will have a better understanding of what copyright is, how to work with copyrighted material, and some of the ways that they can manage their copyrights. These materials were prepared by Authors Alliance for subscribers to our Authors Alliance Partner Program (A2P2).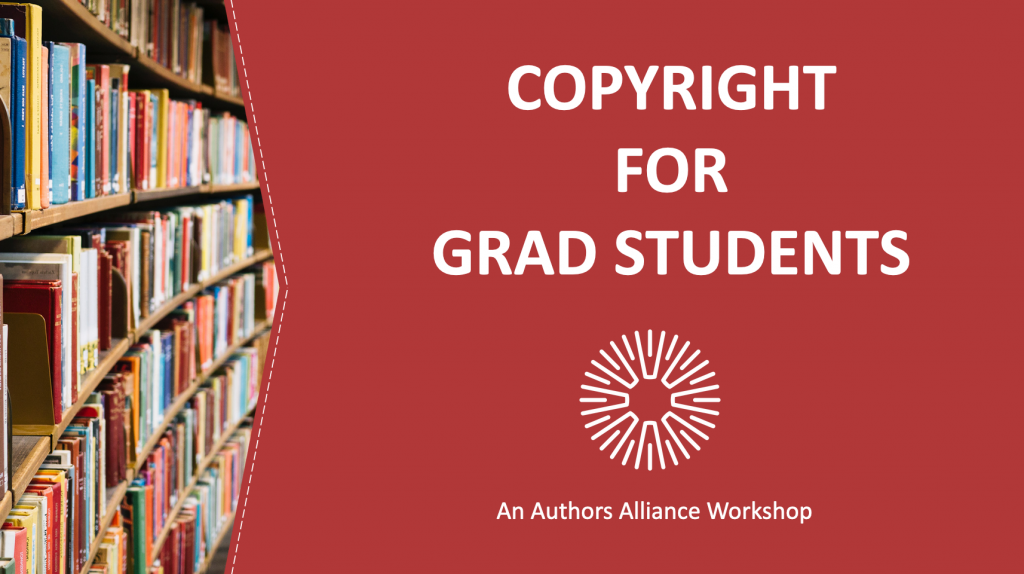 Timing: The core presentation with slides is designed to take about 45 minutes to present, leaving 15 minutes for Q&A in a standard hour-long workshop.
Modifying and Sharing: All WIB content is made available under a CC BY license.
Outside Reading: We recommend familiarizing yourself with the following materials prior to hosting this workshop:
Reporting Back: Please help us by sharing your feedback about any workshops you host using our WIBs with info@authorsalliance.org. This information will help us to report back to our pilot program funders, and your suggestions will enable us to improve future versions of this workshop.
Materials for Presenters
The following materials are designed for the workshop presenter:
Materials for Participants
The following materials are designed for workshop participants:
Marketing Materials
The following materials are designed to help you market your workshop to faculty, researchers, and students: