This Workshop in a Box (WIB) contains everything you need to prepare for and deliver a workshop for faculty, researchers, and students on negotiating book publication contracts. These materials were prepared by Authors Alliance for subscribers to our Authors Alliance Partner Program (A2P2).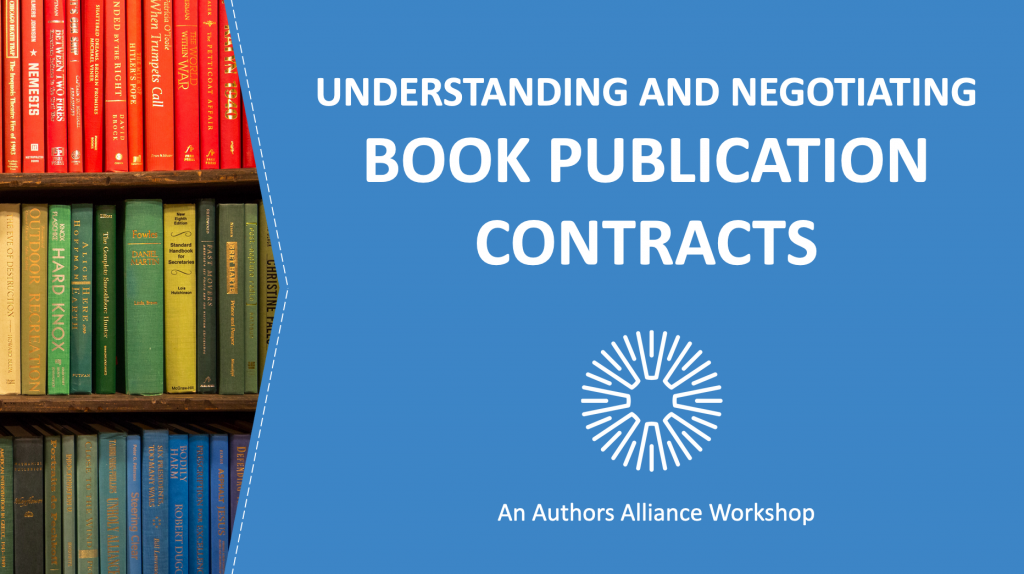 Timing: The core presentation with slides is designed to take about 45 minutes to present, leaving 15 minutes for Q&A in a standard hour-long workshop. Supplemental slides, optional exercises, and worksheets are included for presenters who allocate more than an hour for the workshop.
Modifying and Sharing: All WIB content is made available under a CC BY license.
Outside Reading: We recommend familiarizing yourself with the following materials prior to hosting this workshop:
Reporting Back: Please help us by sharing your feedback about any workshops you host using our WIBs with info@authorsalliance.org. This information will help us to report back to our pilot program funders, and your suggestions will enable us to improve future versions of this workshop.
Materials for Presenters
The following materials are designed for the workshop presenter:
1. Slide Deck: The slide deck forms the core of the workshop. In a series of 43 slides with speaker notes, it provides an overview of contract and negotiation fundamentals together with a deep dive into the standard terms of a publication contract and ways to make those terms more author-friendly. Download Google Slides / Download Office

The main slide deck covers a selection of publication contract clauses that may be of particular interest to academic authors. The following supplemental slides cover additional clauses and can be added to tailor the main slide deck to your constituents' needs.
Slide Deck Supplements:

Supplement 1: This supplement to the "Your Obligations" section of the main slide deck covers delivery of the manuscript, satisfactory manuscript, and options clauses. Download Google Slides / Download Office
2. Presenter Notes: For presenters that prefer to have speaker notes in a separate document, presentation notes are included as a stand-alone document with thumbnails of the slides. Download Google Doc / Download Office
3. Audience FAQs & Answers for Presenters: This document covers questions that workshop participants may raise, together with suggested answers. Download Google Doc / Download Office
Materials for Participants
The following materials are designed for workshop participants:
5. Presentation Notes: For participants who learn best by taking their own notes, this document includes slide thumbnails and a place for jotting down notes. Download Google Doc / Download Office
6. Hands-On Exercises: These exercises give participants the opportunity to apply what they've learned to three hypothetical scenarios. Each group of 2-4 participants should be given 10-15 minutes to review and address their assigned scenario (for large groups, multiple copies of each scenario can be used). Presenters may also opt to ask each group to share their scenario and approach with the group. This exercise is an optional addition for workshops that are scheduled for more than an hour.
Marketing Materials
The following materials are designed to help you market your workshop to faculty, researchers, and students:
7. Email Announcement: This customizable email text can be used to announce the workshop via email to faculty, researchers, and students on campus. Download Google Doc / Download Office
9. Social Media Posts: These sample tweets and Facebook posts, together with a link to a collection of free-to-use images of books and reading, can be used to promote the workshop on social media. Download Google Doc / Download Office